Zen and the Art of Hospital Care
By KATHARINE Q. SEELYE, The New York Times, December 12, 2009
New York, USA -- Anne Reigeluth, a chaplain-in-training at Beth Israel Medical Center in New York, was walking the oncology floor last week when a cancer patient began moaning in pain. Ms. Reigeluth stepped into her room, held her hand and tried to calm her.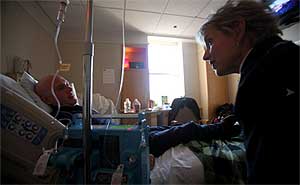 << Chaplain Anne Reigeluth visits cancer patient Toni Siniscachi. Ms Reigeluth, 57, a Buddhist ,is training under two Buddhist monks
She asked the woman if she had a favorite place. A lake, she answered. What time of year did she like to be there? Summer. Soon, the woman was quieter, imagining herself at the lake and recalling better times.
"I wanted to take her mind off her pain and agitation," Ms. Reigeluth said outside the room. "I said: 'I'll stay with you until the nurse comes. And I'll come back.' "
This is what hospital officials call Zen care, which is nondenominational and more about stress reduction, breathing exercises and "being present" with patients and their families than about quoting Scripture or administering last rites.
Ms. Reigeluth, 57 and a Buddhist, is in training under two Buddhist monks, Robert Chodo Campbell and Koshin Paley Ellison, co-founders of the New York Zen Center for Contemplative Care. They also see patients at Beth Israel, one of the few hospitals where ordained Buddhist monks serve alongside priests and rabbis.
As Congress debates extensive changes to many facets of the health care system, it has pretty much ignored the institution of hospital chaplains. And yet, some hospitals are finding that chaplains of all faiths are playing an increasingly vital role, one made all the more important as workloads increase and budgets constrict.
A Blurred Role
The chaplains' job has traditionally been to provide spiritual care. But the job description has blurred as the role of chaplains has expanded. These days, they join medical rounds and discuss crucial end-of-life issues with patients and families.
"They are a critical part of the team," said Dr. Wayne Ury, an attending physician in the department of pain medicine and palliative care at Beth Israel. "They help the doctors and nurses see issues that we may not have been aware of, or minimized, or turned a blind eye to, or just been too rushed to hear."
Wendy Cadge, a sociologist at Brandeis University who is writing a book about hospital chaplaincy called "Paging God," said data on the value of chaplains was slim.
"But people think chaplains are really helpful around end-of-life issues and increasingly complex ethical decisions," she said, including organ donations, living wills and do-not-resuscitate orders.
"Chaplains do a lot to help reduce anxieties," she added. "One study says patients and families who see a chaplain are more satisfied with their care."
Nationally, the demand for chaplaincy services from hospitals and other providers is growing substantially, according to the Association of Professional Chaplains.
"Administrators, doctors and nurses are seeing the value that chaplains bring to the table," said the Rev. Sue Wintz, president of the association, whose membership has more than doubled, to 3,259, over the last 20 years.
Hospitals generally pay for chaplain services themselves, since taxpayer money cannot be used for religious activities, and insurance companies do not reimburse for them. But the costs are tiny in an overall hospital budget.
At Beth Israel, the hospital pays for a director of the pastoral care department, who is Catholic, and a full-time rabbi, and it shares costs with the Archdiocese of New York for two Catholic priests. The two Buddhist monks, who are not part of the department, are financed through a grant from the Nathan Cummings Foundation, a private philanthropic group rooted in Jewish tradition.
The hospital is also training 21 chaplain interns, 14 of whom, like Ms. Reigeluth, are practicing Buddhists; they are not paid.
While the priests tend primarily to Catholic patients and the rabbi to Jewish patients, hospital officials say the Buddhists and trainees care for patients of all faiths — and those with no religious affiliation. (Some patients decline such services.)
No 'Hard Sell'
Gerald Nitzberg, 83, a patient at Beth Israel who has lymphoma and degenerative spinal arthritis, described himself the other day as nonreligious and said he appreciated visits from Barbara Ende, 50, one of the Buddhist chaplains-in-training.
"She is encouraging, without the hard sell," Mr. Nitzberg said as Ms. Ende sat by his bed and a puffy silver birthday balloon floated above his feet.
Ms. Ende and Ms. Reigeluth joined medical rounds last week with doctors, social workers and Mr. Campbell, 56, who goes by the name Chodo, given to him when he took his vows to become a Buddhist monk (he prefers the term "priest").
They discussed how to handle various cases: a woman who thinks she is getting better but is not; a man with multiple medical problems whose family does not want him to have a feeding tube, but who has not designated anyone to make decisions for him; a patient who says she is not in pain but whose family is demanding aggressive pain treatment.
The three did not fit the old stereotype of Buddhist monks. There were no flowing robes. The women wore street clothes. Chodo wore a subdued dark top called a samue, which looked a little like a judo outfit. And after years of shaving his head, he is letting his hair grow.
But there were also signs that they were not traditional chaplains. At one point, Chodo described how he found a Bible by the bed of an elderly patient who could not speak, and he ended up reading the Book of Psalms to her for two hours. She became alert at Psalm 25, he said, and he read it to her three or four more times.
"What is Psalm 25?" Ms. Ende asked.
"You're asking me?" Chodo responded, prompting a rare laugh around the room.