The simple but profound flavors of Buddhist temple cooking
By ROBBIE SWINNERTON, The Japan Times, Dec 31, 2010
Tokyo, Japan -- Hidden away in the quiet backstreets of Azabu-Juban, Itosho is a self-effacing little restaurant that has been serving shojin ryori (Buddhist temple cuisine) for 40 years, remaining — until recently at any rate — one of the city's better kept secrets.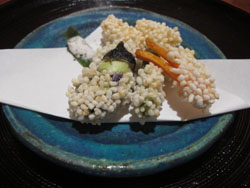 << One of Chef Ito's specialties: shojin-age (deep-fried vegetables).
But even now, with a Michelin star to its name, Itosho has not changed an iota. Nor has owner-chef Hiroharu Ito himself. He hails from Takayama, in the uplands of Gifu Prefecture, and he has an approach to temple cuisine that is refreshingly wholesome and uncomplicated, especially when compared with the more sophisticated Kyoto tradition.
Our lunch last week comprised six courses, ranging from delicate zensai starters to a hearty bowl of soba noodles topped with smooth, slithery grated tororo yam. In between, we sipped on ineffable suimono clear soup, containing a single chestnut dango dumpling and decorated with swirling fronds of scallions as fine as baby chives.
We feasted our eyes as well as palates on nasu no mizore, deep-fried eggplants covered with a pure white layer of grated daikon to symbolize the snows of winter, splashed with the colors of fine-chopped scallions and piquant orange-red togarashi peppers.
And we crunched into chef Ito's signature dish, his shojin-age. He deep-fries half a dozen morsels of vegetable and tofu, not as tempura (in a batter) but frosted with a coating of tiny "pebbles" made of mochi (glutinous rice) flour. Eaten with just a little dab of salt, the flavors are simple but profound, just like the principles of shojin ryori itself.
In this peaceful traditional setting — tatami mats, wooden beams, pillars and shoji screens, a kakijiku scroll in the tokonoma alcove — life slows down. You have time to contemplate your meal, the ingredients, the ceramics on which they are served, the gracious hospitality. Time for appreciation. Time for kansha.
---------
Itosho, 3-4-7 Azabu-Juban, Minato-ku; (03) 3454-6538. Open daily 12-3 p.m. and 5:30-9:30 p.m. Nearest station: Azabu-Juban (Namboku and Oedo lines). Lunch from ¥6,000, dinner from ¥8,000. Reservations essential; credit cards not accepted (cash only).