Home Issues


A Tibetan Monk Goes Up in Flames. Who's to Blame?
by Hannah Beech, Time, August 16, 2011
Sichuan, China -- The Tibetan National Martyrs' Memorial is a black obelisk in Dharamsala, the Indian hill station that serves as the headquarters of exiled Tibetans who have fled their Chinese-ruled homeland. Usually the slender monument is surrounded by a colorful tangle of Tibetan prayer flags.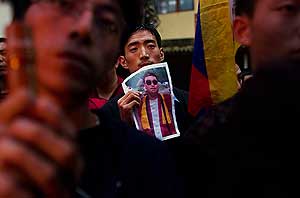 << A Tibetan exile holds a portrait of Tsewang Norbu, 29, a Buddhist monk who reportedly died Monday after setting himself on fire in China's Sichuan province's Garze Tibetan Autonomous Prefecture, during a candle light vigil in Dharmsala, India, Monday, August 15, 2011. (Photo: Ashwini Bhatia / AP)

But on August 16, the base of the memorial was plastered with something new: pictures of Tsewang Norbu, a burly monk wearing sunglasses and a slight smirk. On August 15, the monk from China's Sichuan province set himself on fire. Even as he burned to death, he reportedly shouted slogans supporting freedom for Tibet.

The self-immolation was the second this year by a Tibetan monk in Sichuan. Both clerics, according to exile Tibetan organizations, were driven to desperation by a mounting Chinese crackdown on ethnic minorities and religious expression. (China's official Xinhua News Agency acknowledged that Tsewang Norbu's set himself ablaze but reported that authorities did not know why the 29-year-old had done so.)

Certainly the official reaction toward the monasteries where the two monks lived was swift and harsh. After a monk named Phuntsog fatally doused himself with fuel in March, hundreds of his fellow monks at the Kirti monastery were forced to leave; surveillance continues to this day, according to Tibetan media. Exile groups report that similar events are now unfolding at Tsewang Norbu's Nyitso monastery, where Chinese security forces are ringing the complex and telecommunications have been severed.

In July, the monastery had defied a government ban by trying to celebrate the 76th birthday of the Dalai Lama, the Tibetan spiritual leader who lives in exile in Dharamsala. Beijing considers the Dalai Lama to be a dangerous secessionist; simply displaying his image can carry heavy repercussions in China. In recent days, Nyitso monastery was essentially under police siege for having dared to venerate the Dalai Lama, say exiled monks with ties to the area, leading to the tinderbox atmosphere in which Tsewang Norbu lit himself on fire. Shortly before his self-immolation, the monk apparently passed out leaflets calling for Tibetan freedom and praising the Dalai Lama.

Since the 1980s, the Dalai Lama has insisted that he is calling for autonomy for Tibet, not outright independence. He has won the Nobel Peace Prize for advocating non-violent resistance against a brutal Chinese rule. But frustration among Tibetans has boiled over on several occasions, most recently in 2008 when protests culminated in deadly clashes between Tibetans and members of China's Han majority. The latter ethnic group has flooded to Tibet in recent years, and Tibetans allege the Han get most of the good jobs created by China's recent investment drive in Tibet.

The monks' fiery displays are just another sign of how deep Tibetan discontent remains, even as China builds roads and other development projects across the vast region. Although self-immolation was a historic mode of protest by monks in places like Vietnam, it is not a tradition in modern Tibetan Buddhism. So while some Tibetans in Dharamsala mourned Tsewang Norbu as a martyr, others were less forgiving. "Committing suicide is against our teachings," says a monk studying in Dharamsala, who declined to give his name because he plans to return to Tibet. "We are all desperate, but [suicide] is not the solution."

Read more: http://globalspin.blogs.time.com/2011/08/16/a-tibetan-monk-goes-up-in-flames-whos-to-blame/#ixzz1VEY4b0Bf