Home Issues


The Karmapa's statement on the recent acts of self immolation by Tibetan monks and nuns
The Buddhist Channel, Nov 14, 2011
Dharmsala, India -- A Buddhist nun in China's western Sichuan Province burned herself to death on November 3, 2011, bringing to 11 the number of Tibetan clergy and former clergy who have set themselves on fire since March. The series of self-immolations, unprecedented in Tibetan Buddhism's modern history, has continued despite an increasingly large Chinese security presence in the predominantly ethnic Tibetan area.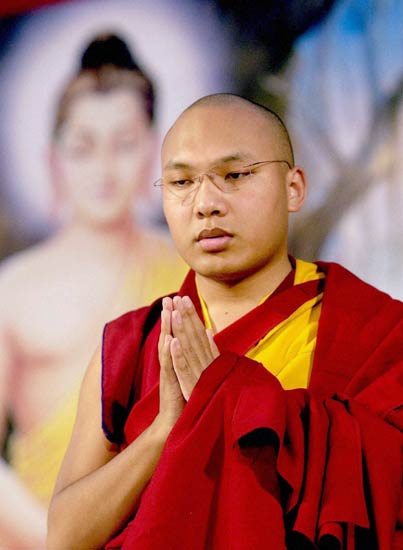 In response to the gruesome events, His Holiness the Karmapa, Ogyen Trinley Dorje, issued the following statement on November 9, 2011:

"Since March this year 11 brave Tibetans have set themselves on fire while calling for freedom in Tibet and the return of His Holiness the Dalai Lama to his homeland.



These desperate acts, carried out by people with pure motivation, are a cry against the injustice and repression under which they live. The situation is unbearably difficult, but in difficult situations we need greater courage and determination.





"Each report of self-immolation from Tibet has filled my heart with pain. Most of those who have died have been very young. They had a long future ahead of them, an opportunity to contribute in ways that they have now foregone. In Buddhist teaching life is precious. To achieve anything worthwhile we need to preserve our lives. We Tibetans are few in number, so every Tibetan life is of value to the cause of Tibet. Although the situation is difficult, we need to live long and stay strong without losing sight of our long term goals.





"As His Holiness the Dalai Lama has said, the Chinese leadership should face up to the real source of these tragic incidents. Such drastic acts have their origin in the desperate circumstances in which Tibetans find themselves living. A ruthless response will only make things worse. Where there is fear, there can be no trust.





"His Holiness the Dalai Lama has stressed that the use of force is counter-productive; repressive measures can never bring about unity and stability. I agree with him that the Chinese leadership needs seriously to review its policies towards Tibetans and other minorities. I appeal to right-thinking, freedom-loving people throughout the world to join us in deploring the repression unleashed in the monasteries in Tibet, particularly in the Tibetan region of Sichuan. At the same time I appeal to the Chinese leaders to heed Tibetans' legitimate demands and to enter into meaningful dialogue with them instead of brutally trying to achieve their silence.





"Because the Tibetan issue involves truth and justice, people are not afraid to give up their lives, but I request the people of Tibet to preserve their lives and find other, constructive ways to work for the cause of Tibet. It is my heartfelt prayer that the monks and nuns, indeed all the Tibetan people, may live long, free from fear, in peace and happiness."