Home Issues


Tibetans assail Beijing's bid to curb Dalai Lama's activities
by S Gopal Puri, TNN, Nov 29, 2011
DHARAMSHALA, India -- A series of controversies raised by China implicating the global Buddhist congregation has enraged the Tibetan administration and community in exile, as this has scraped the wound caused by the recent self-immolations by monks inside Tibet.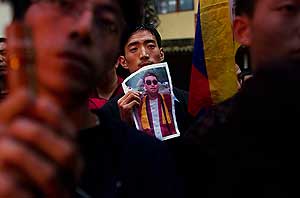 In an interaction with TOI on Sunday, Tibetan officials criticized the continuous efforts of China to curb the activities and interactions of Dalai Lama with leaders of various countries. "China has never showed a positive gesture towards Dalai Lama ever since he devolved political powers and has never criticized Chinese people. The Dalai Lama has always remained a religious figure in Tibet and for Tibetans in exile across the world, but China has never considered him religious figure and treats him as a separatist," they said.

On Sunday, Tempa Tshering, representative of the Dalai Lama, asked China not to politicize a religious congregation in New Delhi at which the Tibetan spiritual leader is to speak.

With prime minister Lobsang Sangay being away in the US, acting prime minster Pema Chinnjor, who is also heading religion and culture department, claimed that such developments are not new as China somehow remains nervous over the affairs of the Dalai Lama.

"His Holiness never says anything about China that has harmed Chinese people. The conference is all about harmony and peace. We don't know why they feel threatened? " he said. It may be because of the increasing popularity of Dalai Lama inside China, as he is being admired across the globe, he added. Thupten Samphel of Central Tibetan Administration said: "It is their (Chinese) primary activity to somehow curb activities and visits of his holiness in other countries. He is now a totally religious figure. China might not like to hear Dalai Lama, but there are people in this free world who want to learn from him".

He added that China apparently fears from Dalai Lama's activities just because he is an acknowledged Nobel laureate and his presence reminds the world about Tibet-China issue.

"China itself doesn't tolerate the intervention of others in domestic matters but it is actively interfering in India by condemning a religious meet," he added. A prominent Tibetan activist and the director of Miss Tibet pageant said that China is trying to assert as a superpower and therefore making attempts to stop Dalai Lama. "Since South Africa has rejected the visa of Dalai Lama due to the Chinese influence, it has given Beijing a false sense of victory and disrupt the activities of his holiness. Even in democratic set-ups, China is making futile attempts in this regard. It has not spared even India which is a democratic country where rule of freedom prevails," he said.

Tenzin Norbu from Tibetan Parliament said that Dalai Lama is a universal symbol of peace and if we look into the efforts of China, it remained same like this.