Home Issues


The Dalai Lama Steps Out in India, as China Seethes
By Nilanjana Bhowmick, Time, Dec. 05, 2011
New Delhi, India -- On Saturday afternoon at the India Habitat Center in New Delhi, the Dalai Lama spent an hour educating a packed house of some 1,500 people on the art of happiness in a lecture arranged by book publisher Penguin India. That in and of itself would not be unusual: the Tibetan spiritual leader is a best-selling author and a world-renowned public speaker.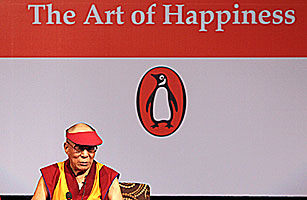 << The Dalai Lama gives a talk on the art of happiness, organized by Penguin India, in New Delhi on Dec. 3, 2011
Tsering Topgyal / AP

But the event marked his third public appearance in India in a week at a time when India and China - a vociferous critic of the Dalai Lama's ever since he fled to India from China-occupied Tibet in 1959 - are at increasing odds over border disputes and oil-and-gas exploration in the South China Sea. And while the lecture itself steered clear of political issues, the deeper significance of the Dalai Lama's sudden increased public appearances has been the subject of much speculation.

The Chinese government has reacted strongly to the Dalai Lama's latest speaking engagements in India, canceling high-level talks after one appearance and sending missives to Indian officials not to attend another, despite assurances from New Delhi and from the Tibetan government-in-exile that they were not meant as an affront.

"The Dalai Lama has been in Delhi for quite a few events. All the events he has attended are nonpolitical, and it is mere coincidence that they happened one after the other," says Lobsang Sangay, the newly elected Kalon Tripa or Prime Minister of the Tibetan government-in-exile who accompanied the Dalai Lama on Saturday. "China is overreacting and politicizing his appearances. The Dalai Lama has always been about human values and harmony; it is just the Chinese government who is pressurizing India and other countries to restrict him." (See photos of the Dalai Lama visiting the White House.)

At the end of his appearance Saturday, the Dalai Lama took part in a Q&A with the audience although he avoided any questions "of a political nature." Instead, he touched upon the much-debated issue of corruption in India - a topic that has captured the imagination of many Indians in recent weeks. "India is a very religious nation. Religious faith and corruption cannot go together," the Dalai Lama said. "Each Indian has more responsibility to build a healthy India for it to make a significant impact." At another public function last week he articulated his support for Anna Hazare, the 74-year-old anticorruption crusader whose hunger fasts brought India to a near standstill earlier this year.

With his trademark sense of humor and twinkling smile, the Nobel laureate held sway over the gathering from the start. His eyes sheltered against the stage lights by a visor cap that matched the maroon of his robe, the 76-year-old monk easily answered questions, pausing in between just once only to swallow his daily dose of tablets. While he refrained from any references to China, he did not hesitate to draw on examples of the acts of "hard-line Chinese officials" who were against his stay in India, including that in 2008, when he caused a stir by asserting that an area China claims as "South Tibet" was actually part of the Indian state of Arunachal Pradesh.

With a cheeky smile, the Dalai Lama noted that China considers him a troublemaker - and vice versa. Since March at least 12 Tibetan monks, nuns and former monks have set themselves on fire in protest over the Chinese occupation of Tibet, and Beijing has accused the Dalai Lama and his followers of inciting the immolations.

"At age 24, I became a refugee," he said at one point. "I lost my home in Tibet but found a bigger home in India." For six decades, the Dalai Lama presided over Tibet's government-in-exile from the north Indian town of Dharamsala, until in May this year when he gave up his political powers to Sangay, an elected representative. The Dalai Lama's presence in India continues to have a chilling effect on Sino-Indian relations, however. China has always objected to his public appearances in India, while India maintains that His Holiness is an honored guest and, as a spiritual leader, has the right to address nonpolitical gatherings.

The Indian government has bowed to Chinese pressure in the past: in 2009, it refused foreign journalists entry in Arunachal Pradesh to cover the Dalai Lama's visit. But recent incidents seem to indicate India is standing up to its neighbor a bit more, at least where the Dalai Lama is concerned. On Dec. 1, China sent a missive to the state secretary of the eastern Indian state of West Bengal, asking officials to not attend a function celebrating the 100th anniversary of Mother Teresa's birth, in which the Dalai Lama was going to speak.

The message went ignored as did Chinese complaints over his address at a four-day Buddhist conference in New Delhi on Nov. 30 - after which China postponed a round of upcoming border talks in protest. "The Dalai Lama is not a purely religious figure but one who has been engaged in separatist activities for a long time, under the pretext of religion," China's Foreign Ministry spokesman Hong Lei had commented a few days earlier, reasserting that China opposes "any country that provided a platform to the Dalai Lama." (Read "In Tibet, a Burning Desire for Freedom.")

In the end, the Dalai Lama is just one of many issues in an ongoing struggle over regional power. The Dalai Lama "is one part of Sino-Indian relations. He is important because he is a person who has a view and persuasion, but India is not going to use him directly," says Bhaskar Roy, a former senior government official and an India-China expert associated with the South Asia Analysis Group. "The strategic, regional and global aspects of Sino-Indian relations are far bigger and beyond the Dalai Lama." That doesn't stop the spiritual leader from being an occasional paranoia trigger. "The Chinese government thinks I am a demon, " the Dalai Lama said at an event in Kolkata on Friday, laughing. "I may be a demon but not a bad one."