Home Issues


Dalai favours Buddhist solution for Tibetan issue
TNN Jan 4, 2012
GAYA, India -- Extolling the virtues of 'middle path' or madhyam marg, the central philosophy of Buddhism, the Dalai Lama -- the supreme spiritual leader of Tibetan Buddhism -- said a solution to the Tibetan problem is to be found through the middle path.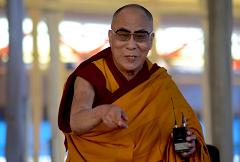 Although the Dalai Lama did not explain the contours of the middle path, his statement is being seen as an offer made to the Chinese government for a negotiated settlement of a nearly six-decade-old Tibetan question that has emerged as the main irritant in the India-China relations.
The Dalai Lama made the reference to the middle path approach vis-a-vis Tibet during his interaction with Tibetans, visitors from China and other areas of the Himalayan region on Tuesday. The Tibet problem is 'man made' and, as such, its solution has to be found by people who created in the first place, said the Dalai Lama.
In a somewhat measured tone, the Dalai Lama said the Tibetan problem was known to one and all and there was no need repeating it all over again. The reality cannot be concealed for long, he said.
The Dalai Lama is in Bodh Gaya in connection with Kalchakra Puja, the mega prayer for peace and creation of living Buddhas.