Home Issues


China's Tibetan Buddhists 'in vicious cycle'
by Robert Saiget, AFP, Jan 13, 2011
BEIJING, China -- China's Tibetan Buddhists are locked in a "vicious cycle" of radicalisation as an intensifying government crackdown spurs them to increasingly desperate acts of protest, rights groups say.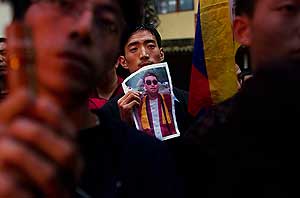 At least 15 Tibetans have set fire to themselves over the last year. Most have been young monks in their teens or early 20s, but the last self-immolation was perpetrated by a high-ranking Buddhist cleric for the first time.

Sonam Wangyal, reported to be in his 40s, who set himself on fire in the northwestern province of Qinghai on Sunday, was known as a "living Buddha" -- the reincarnation of a line of high-ranking lamas.

Experts say suicide is a major taboo in Tibetan Buddhist culture, and that the senior monk would have been "acutely aware" of the ramifications of his self-immolation for his reincarnation.

"The self-immolation of a living Buddha will confer legitimacy on this kind of protest... It marks an escalation, it is a very worrying trend," Nicholas Bequelin, a Hong Kong-based researcher for Human Rights Watch, told AFP.

"You are going to see more of this. These acts of protests come from a reaction from too much control, but the (government) response is to bring even more repression and control.

"This is the definition of a vicious cycle of radicalisation."

Tibet's spiritual leader, the Dalai Lama, has expressed concern over the wave of self-immolations, which he blamed on the "cultural genocide" of Tibetans under Chinese rule.

At least nine of the 15 Tibetans who have set themselves alight over the last year have died, while the whereabouts of the others remains unknown as they have disappeared into custody, rights groups say.

Bequelin said the increasingly widespread use of mobile phones and the Internet -- while tightly controlled in Tibetan-inhabited areas -- is also helping spur self-immolations by providing a platform to publicise them.

"This is religious news that has travelled far and wide, it is big news being actively discussed," he told AFP.

"We can see the debate ripple through the community-in-exile -- they are debating whether it is legitimate or not for a good Tibetan to commit suicide."

China blames the Dalai Lama -- who fled Tibet following a failed uprising against Chinese rule in 1959 and is vilified as a "separatist" by Communist authorities -- for much of the unrest in Tibetan-inhabited regions.

The government denies it uses repressive methods against Tibetans, insisting that they enjoy freedom of religious belief and that huge ongoing investment into Tibetan-inhabited areas has greatly raised their standard of living.

But after each self-immolation, authorities have increased security in the area where the incident occurred, which rights groups say has exacerbated the problem.

Hours after Sonam Wangyal's self-immolation, the official Xinhua news agency said senior officials in the region of Tibet had "pledged stepped-up efforts to strengthen the management of monasteries in the fight against the Dalai Lama group".

Officials were urged "to push forward the patriotic and legal education among monks and nuns... and dissuade them from being duped by separatist forces", it said.

"This unprecedented wave of self-immolations is the ultimate rejection of Chinese rule in Tibet," Tenzin Dorjee, director of the New York-based Students for a Free Tibet, told AFP.

"In each of these incidents, the individual carrying out the act of self-immolation has demanded freedom for Tibet and the return of the Dalai Lama."

In an indication of the level of concern over the issue, security forces in Aba -- a county in the southwestern province of Sichuan where most of the self-immolations have occurred -- now carry fire extinguishers with them.

In November, China's public security minister travelled to Aba in Sichuan where he visited the Kirti Monastery -- a flashpoint for the incidents -- and urged monks to be patriotic, state media reported.

Tenzin Lhunzub, a Beijing-based Tibetan scholar at the China Tibetology Research Centre, said self-immolation was an "extreme and negative way of dealing with things".

"It is not a tradition and it is not in our culture," he added.

Despite these concerns, three self-immolations have already occurred since the beginning of the year.

"There appears to be a direct correlation between increasing Communist Party repression of Tibetan Buddhism and... the self-immolations," Kate Saunders, spokeswoman for the US-based International Campaign for Tibet, told AFP.

"For Tibetans, this is a life and death struggle at a dark time in their history, and the self-immolations indicate their resolve as well as their anguish."