Home Issues


Monk who self-immolated 'called for Dalai Lama return'
Agence France-Presse, February 2, 2012
Beijing, China -- A senior Tibetan monk who self-immolated last month urged Tibetans to unite and called for the return of the Dalai Lama in a message recorded before his death, advocacy groups said on Thursday.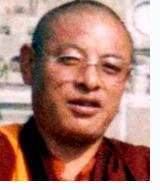 Lama Sobha, also known as Sonam Wangyal, was the most senior of 16 Tibetan clerics and former monks to have set themselves alight in the past year in protest against China's policies in Tibetan-inhabited areas.

In the nine-minute audio recording, Lama Sobha said his sacrifice was in solidarity with "heroes" who have died seeking to protect Tibetan culture, the Washington-based International Campaign for Tibet (ICT) said in a statement.

The people of Tibet "must unite and work together to build a strong and prosperous Tibetan nation in the future," the group quoted him as saying.

"I pray that His Holiness the Dalai Lama will return to Tibet and remain as Tibet's temporal and spiritual leader."

Tibet's spiritual leader, winner of the Nobel Peace Prize, fled into exile in 1959 following a failed uprising, and is a considered a separatist by Beijing -- a charge he has repeatedly denied.

The ICT also posted images of Lama Sobha's charred body, which it said were obtained by exiled Tibetans after the self-immolation in Qinghai province, northwest China, on its website, www.savetibet.org.

Lama Sabha's recording was obtained by the US government-run Radio Free Asia, the campaign said. AFP has been unable to independently verify the authenticity of the recording.

Tibetans have long chafed at China's rule over the vast Tibetan plateau, accusing Beijing of curbing religious freedoms and eroding their culture and language.

Four of the self-immolations occurred last month as violent anti-China protests in the southwestern province of Sichuan -- which has big populations of Tibetans -- erupted. Police shot dead at least two Tibetans in the unrest.

China has blamed "trained separatists" for the recent wave of unrest, while the state-controlled Xinhua news agency said Lama Sobha's suicide was the result of a failed love affair.

Beijing insists that Tibetans enjoy religious freedom and have benefited from improved living standards brought on by China's economic expansion.

The Lama, reported to be in his 40s, was known as a "living Buddha" -- the reincarnation of a line of high-ranking lamas.