Home Issues


Breakaway Tibetan Buddhists threaten the Dalai Lama
by Naresh K Thakur , Hindustan Times, December 5, 2012
Dharamsala, India -- After remaining dormant for five years, the dissident group in the Tibetan community in exile has once again started its covert activities in Dharamsala town.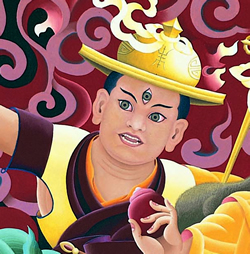 Dharamsala police received a parcel from followers of Dorje Shugden containing anti- Dalai Lama literature and a video
CD.

Assistant Superintendent of Police (ASP) of Kangra G Siva Kumar, while confirming the news, said the some unknown person had been the parcel from Singapore.

"The parcel contains a pamphlet and a video CD," said Kumar, adding that there was nothing threatening in the contents.

"In the pamphlet and CD, questions have been raised over the efforts being made by the Dalai Lama and Central Tibetan Administration (CTA) for the freedom of Tibet and have alleged that proper path was not followed to achieve autonomy and independence," said Kumar. The Dalai Lama and the Tibetan government in exile have also been accused of discriminating against Shugden devotees, added Kumar.

He said the CD contained a news clipping aired by a French channel in 2009. Meanwhile, SP Kangra, Diljeet Thakur said that security at the Dalai Lama's residence had been cautioned.

Shugden devotees are among the most violent fundamentalist groups among the exiles. One of their groups, Dorje Shugden Devotees Charitable and Religious Society (DSDCRS) has its headquarters in Delhi. In Feb1997, three Tibetan Buddhist monks, including the Dalai Lama's close associate, Lobsang Gyatso, who was opposed to Shugden-worship, were brutally murdered in Dharamsala. It was widely held that the perpetrators were monks loyal to Shugden.

The Indian police had identified and charged DSDCRS members of the triple murder and Interpol had issued a red corner notice against two accused in June 2007.

In 2008, an organisation named Western Shugden Society (WSS) had begun a campaign directed at the Dalai Lama. Picketing the venues where he was to appear around the world, they claimed that he was banning them from practicing their own lineage of Buddhism.

May this year, when the Dalai Lama apprehended a "poison plot" by the Chinese intelligence agencies, the Tibetan government in exile had felt threatened from fundamentalist groups backed by Chinese authorities. The CTA had asserted that efforts of the spiritual leader to reform and democratise the Tibetan society had emboldened certain fundamentalists within the community.

Shugden Dorje

Dorje Shugden is a controversial deity within Tibetan Buddhism. He is primarily associated with two influential lamas of the Gelugpa school of Tibet: Pabongka Rinpoche and Trijang Rinpoche. The Dalai Lama is the current head of the Gelugpa sect. Dorje Shugden is viewed by some as a protector and by others, including the Dalai Lama, as an 'evil and malevolent force'. In 1996, the Dalai Lama disassociated himself from the worshippers of Dorje Shugden and had appealed to the Tibetan community not to worship Shugden.