Home Issues


Save Pali, ancient classical Indian language of Buddhism in India
by Prof. Dr. Siddharth Singh, The Buddhist Channel, Apr 16, 2013
New Delhi, India -- The Government of India has recently removed Pali - an ancient classical language - as a subject from the main examination of the Civil Services (popularly known as Indian Administrative Services i.e. IAS) of India, 2013, which were under the purview of the UPSC (Union Public service Commission).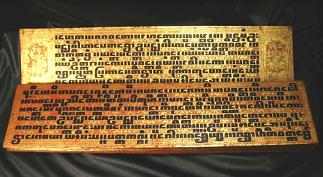 The presence of Pali in this competitive examination was one of the major reasons that attracted many youngsters to opt for Pali and Buddhist Studies. The examination was touted as a major lifeline of the language, and was credited to have played an important role in stemming the decline of Buddhism in its homeland.
Most Indian Buddhist scholars are not aware that the Government of India does not consider Pali as a classical language of India.
In a 2006 press release, Minister of Tourism & Culture Ambika Soni told the Rajya Sabha (upper house of the Indian Parliament) the criteria which were laid down to determine the eligibility of languages to be considered for classification as a "Classical
Language":
"High antiquity of its early texts/recorded history over a period of 1500-2000 years; A body of ancient literature/texts, which is considered a valuable heritage by generations of speakers; The literary tradition be original and not borrowed from another speech community; The classical language and literature being distinct from modern, there may also be a discontinuity between the classical language and its later forms or its offshoots."
Activists have argued that the Pali language and literature fulfils the above criteria. Pali, the language used to encapsulate the Buddha's teachings as contained in the Tipitaka, is a treasure trove of Buddhist knowledge and has become an important carrier of Buddhist propagation throughout the world. The latest setback has the potential of suffocating Buddhist growth in its own homeland.
Activists contend that the standpoint of the Indian government is illogical, unjustified and reflects ignorance of the Indian bureaucratic system and political leadership towards its own heritage.
The removal of Pali by UPSC and non-recognition of Pali as an Indian classical language calls for strong protests not only by those who are related with Pali and Buddhist Studies but also by all those who study, respect or relate themselves with Indology or Buddhism in whatever ways.
A petition has been organised to mount pressure on the Government of India to take the following actions:
Include Pali as a classical language of India
Withdraw the decision of removing Pali Language & Literature from the Civil Services Examination conducted by Union Public service Commission (UPSC) of India.
Supporters of the Pali language are urged to write to Prime Minister Dr. Manmohan Singh, Prime Minister of India. His address is as follows:
South Block, Raisina Hill,
New Delhi.
India-110011.
Telephone: 91-11-23012312.
Fax: 91-11-23019545 / 91-11-23016857
Email: http://pmindia.gov.in/feedback.php
A Facebook Page entitled "Save Pali and Buddhist Studies in India" can be viewed here: https://www.facebook.com/groups/586673281343224/?ref=ts&fref=ts
An online petition entitled "Save Pali, ancient classical Indian language of Buddhism in India" has been setup:
http://www.thepetitionsite.com/979/079/931/save-pali-ancient-classical-indian-language-of-buddhism-in-india/.
All Buddhists are urged to support this cause as the death of Pali Language and Buddhist Studies in its motherland would be disastrous, not only for India but also for the entire World.