Home Issues


The battle for Buddha
by Anne Kingston, Macleans, April 21, 2013
Buddhist mindfulness goes corporate, and the purists aren't pleased
Toronto, Canada -- When Janice Marturano conducted the "mindful leadership experience" workshop last January at the World Economic Summit in Davos, Switzerland, she was hoping for an audience of 20 - at most. "I was prepared for one or two," the founder and executive director of the Washington-based Institute for Mindful Leadership admits. She needn't have worried.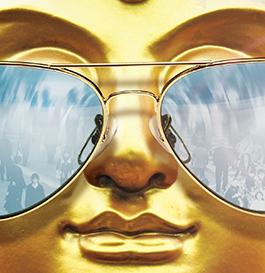 There was a lineup; people were even turned away. More than 70 of the world's most influential people crammed into the room, many standing for 90 minutes to learn "techniques for developing focus, clarity and compassion." The next morning, Marturano led a meditation - a Davos first - that drew 40 people, two-thirds of whom had never meditated before.
The spectre of masters of the universe chanting Om at Davos serves as only one measure of how "mindfulness" has become the new Western mantra. The technique, linked to Buddhist practice, teaches being present in the moment, always attentive to, and accepting one's thoughts and responses, without judgment. In a 1977 study, mindfulness pioneer Jack Kornfeld presented the approach as a remedy to Western excesses, or "the egoistic, hedonic treadmill of continually avoiding discomfort and seeking pleasure from outside sources that are ultimately unsatisfying and short-lived."
Mindfulness entered the medical mainstream in the 1980s as a clinically proven method for alleviating chronic pain and stress. Since then, it has metastasized into an omnibus panacea—to help children with attention-deficit hyperactivity disorder concentrate, soldiers with post-traumatic stress disorder recover and, now, Fortune 500 executives compete. In Paul Harrison's upcoming documentary, The Mindfulness Movie, psychologist Guy Claxton frames the benefits in mercantile terms: "At the most basic level, mindfulness enables you to get value for money out of life," he says.
Read the full article here: http://www2.macleans.ca/2013/04/21/the-battle-for-buddha/