Home Issues


India's Buddhist diplomacy falters
The Bangkok Post, Aug 5, 2013
Billion-dollar plan to revive ancient Nalanda University as an intellectual and religious showcase has not caught the imagination or money of Southeast Asian nations.

Bihar, India -- Nalanda University was a centre of higher learning that drew global acclaim from the fifth century AD to 1197 AD. Situated in what is now the state of Bihar in eastern India, the university was destroyed by a Turkic general, supposedly because its library did not include the Koran. The university's demise, however, had already begun thanks to India's waning enthusiasm for Buddhism at the time.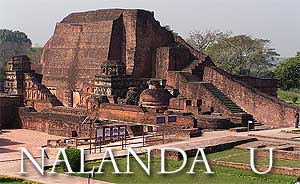 Eight centuries later, the Indian government is keen on reclaiming its Buddhist past. The effort is part of New Delhi's "Look East " policy to cultivate extensive relations with Southeast Asian nations, where rival China exerts more influence.

The Nalanda project, first mooted in 2006, comes at a time of "a tremendous resurgence of Asia after centuries of stagnation, division and decline ", say its backers. The Ministry of External Affairs has described the project as "the centrepiece of India's cultural diplomacy, and a bridge between the past and the future ".

Expectations in India are high, with Nobel laureate Amartya Sen as the proposed university's chairman.



The new Nalanda International University would focus on the humanities, economics and management, Asian integration, sustainable development and oriental languages, with its first students arriving next year, the BBC reported in May.

"The tradition of great Buddhist universities of the past, symbolised by Nalanda, is being reclaimed by India, " said Gail Omvedt, a sociologist who holds the Dr. B.R. Ambedkar Chair at Indira Gandhi National Open University in New Delhi. "[It is] a great step for heritage and, hopefully, educational innovation. "

The decision to revive the university was taken at the Second East Asian Summit in 2007, and 16 countries signed a declaration in support of it at a 2009 summit in Thailand. The project envisions international collaboration, and its governing board includes George Yeo, a former foreign minister of Singapore; Prapod Assavavirulhakarn, a professor at Thailand's Chulalongkorn University; and Wang Bangwei, a professor at China's Peking University.

However, New Delhi has been able to garner little support from Southeast Asian nations. The project will cost more than $1 billion, but regional nations have pledged only a fraction of that sum. Singapore and Japan have promised about $100 million, China has given $1 million and Thailand just $100,000.

What is keeping others from coming onboard unreservedly? Perhaps a lack of trust, suggests French scholar Christophe Jaffrelot. India's "Look East " policy, he has observed, is centred on "the contemporary iteration of India's long-term, nationalist interest in 'Asianism'. "

India's first prime minister Jawaharlal Nehru once said, "We are of Asia and the peoples of Asia are nearer and closer to us than others. India is so situated that she is the pivot of Western, Southern and Southeast Asia. In the past her culture flowed to all these countries and they came to her in many ways. "

Jaffrelot's observation perhaps reflects India's impression in Southeast Asia.

"To a considerable extent, reservations about Nalanda [in Southeast Asia] are due to the fact that it will add to India's cultural profile in the region and revive the images of past when Indian civilisation and culture dominated in the region, " said S.D. Muni, a scholar of international relations and a former Indian ambassador and UN special envoy.

"You would recall that there was a strong intellectual effort on the part of French, Dutch and regional scholars to challenge Indian historians' theses about Indianisation of Southeast Asia. "

Whether the perception is fair or not, the Nalanda project is being seen against the backdrop of India's competition with China for regional influence.

Though a communist nation, China has been pursuing aggressive public diplomacy using Buddhism. And since China seeks to keep India out of Southeast Asian arrangements, New Delhi also wants to assert its place as the centre of Buddhism.

Interestingly, India's reluctance to trust regional nations is also visible to some extent.

"India doesn't appear to be making any vigorous efforts to mobilise support and resources for the Nalanda project, perhaps due to the fear that greater involvement in financial terms will demand greater decision-making role on the part of the donors, " said Muni.

"The regional countries are also hesitant in investing their monies and efforts in a project where they have a very limited decision-making role. "</p>
Besides, reputation matters in cultural diplomacy.

"Reservations about supporting Nalanda also arise from the fact that India's higher education field is still closed and does not enjoy a good international reputation, " said Muni. "In fact, some of the regional universities, particularly those in Hong Kong and Singapore, rank much higher than Indian universities in international ranking. "

India might also face criticism about how the country treated its Buddhist population in the past. The Nalanda project will serve to remind people "about what the aggressive resurgence of Brahminical Hinduism did to Buddhism ", said Mohan Guruswamy, chairman and founder of the Delhi-based Centre for Policy Alternatives.

Many scholars believe Buddhists in India were persecuted by the Brahmins, or India's priestly class, who were keen to assert their caste supremacy.

Although Lord Buddha was born in what is today called Lumbini in Nepal, it was in India that he attained enlightenment and delivered his first sermon. Despite its Buddhist heritage, India has only about 8 million Buddhists today, less than one percent of its population.

In fact, China should be most keen about the Nalanda project because of the Chinese pilgrims, Xuanzang and Faxian, who visited India during the first millennium CE, said Guruswamy, the author of India-China Relations: The Border Issue and Beyond.

"After all, it was their writings that told the world what existed there and of a time when Buddhism thrived in India, " he said.





About Us
Get Breaking Buddhist News in your Email. Free subscription.

Please help keep the Buddhist Channel going

Point your feed reader to this location
Wikipedia: Buddhism by Country
Sangha Directory
Ecards
Wallpapers
E-Library
Archives
Sitemap
Submit an Article
Write to the Editor
Affiliation Program