Home Issues


Removal of Pali from IAS exam shocks Buddhists
by Chamara Sumanapala, The Nation, 13 October 2013
Colombo, Sri Lanka -- The Indian Government has still not revoked its controversial decision of removing Pali as a subject offered at the Indian Civil Services (commonly known as Indian Administrative Services-IAS) examinations.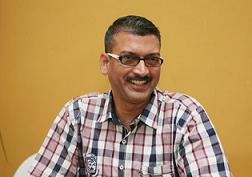 << Professor Siddharth Singh, Head of the Department of Pali and Buddhist Studies at Banaras Hindu University, Varanasi, India fights to save Pali in India.

The examinations are held under the purview of the Union Public Service Commission (UPSC) and the UPSC took this decision in March, this year. It shocked the Buddhist community of India and several parties protested against it. However, the protests have not convinced the government to rethink its decision.

Professor Siddharth Singh, Head of the Department of Pali and Buddhist Studies at Banaras Hindu University, Varanasi, India, has been leading a campaign against the PUSC decision, to remove Pali as a subject from the IAS examination. When he visited Sri Lanka recently, he discussed the matter with Buddhist leaders, including the Buddhist and Pali University Vice Chancellor. Professor Singh has created a Facebook page titled 'Save Pali and Buddhist Studies in India'.

At a press conference held at Sadaham Sevana International Buddhist Information and Research Institute, he spoke about the issue at length, and mentioned that, for Buddhists in India as elsewhere, Pali is the foundation of Buddhist learning. The Buddhist Canon, the 'Tripitaka', is written in Pali. Therefore, Indian Buddhists in general and those who study Buddhism in particular have a special interest in Pali. However, in India, Pali is not recognized as a classical language, now the government has taken a decision to remove it from the IAS examination.

Further speaking, Professor Singh stated that, "sentiments of Buddhists in India have been hurt through this act. We wrote to Indian Prime Minister Manmohan Singh, to leader of the opposition and to members of the Rajya Sabha and Lok Sabha about this great injustice. But so far they have not given any reason or a justification for removal of Pali from the Indian civil service examination." He also mentioned that this decision has been taken without any explanation or justification.

Pali was becoming a popular 'Optional Literature Subject' of the IAS examination. In 2010, there were 355 candidates who opted for Pali at the examination, which was up from 213 candidates in 2009. Apart from Hindi, it was the most popular subject among candidates who offered literature as an optional subject.

However, there are languages which have a much lower number of candidates that have not been removed from the list. They include Assamese, Bodo, Dogri and Manipuri. The extent of usage cannot be a valid reason for the exclusion of Pali as it is a language used for Buddhist studies, though not for day to day communication.

The removal of Pali as a subject of IAS has several negative consequences. This is not an encouraging move, for the field of Buddhist studies in India. The government's decision is extremely illogical especially at a time when India is undertaking Buddhist cultural diplomacy as a soft power. India took steps to revive the ancient Nalanda University and has also promoted various Buddhist related activities. While India is trying to score political marks outside the country by promoting Buddhism, they are discouraging Pali studies in India.

Jathika Hela Urumaya parliamentarian Venerable Athuraliye Rathana Thera who also attended the press conference stated that this move is against the interests of the 'Scheduled Castes' or Dalits of India. The vast majority of Indian Buddhists are Dalits who converted to Buddhism, especially under the guidance of Dr. BR Ambedkar.

The removal of Pali as a subject of IAS examination is an obstacle for the educational and career paths for these Ambedkari Buddhists. Rathana Thera states that the spread of Buddhism in India is a question for the Brahmin ruling class. He also questioned Indian government's violation of Human Rights of the Dalit Buddhists while criticizing the Human Rights record of Sri Lanka and other countries.
Professor Singh requests the Indian government to revoke its decision on removing Pali from the IAS examination and recognize Pali as a classical language.