Home Issues


Buddha Tattoos Now On Travel Advisory
The Sunday Leader, Apr 27, 2014
London, UK -- The British Foreign and Commonwealth Office last week warned British nationals visiting Sri Lanka not to have visible tattoos of the Lord Buddha.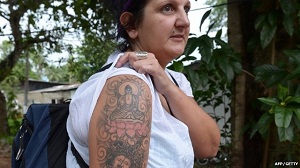 << Naomi Coleman was arrested at Bandaranaike International Airport
The warning in an updated travel advisory on Sri Lanka comes after British national Naomi Michelle Coleman, 37, was arrested at the Bandaranaike International Airport and ordered to be deported for having a tattoo of the Lord Buddha on her arm.
The updated travel advisory notes that the mistreatment of Buddhist images and artefacts is a serious offence and tourists have been convicted for this.
"British nationals have been refused entry to Sri Lanka or faced deportation for having visible tattoos of Buddha. Don't pose for photographs by standing in front of a statue of Buddha," the travel advice said.
A police spokesman had said Coleman was arrested for "hurting others' religious feelings" after the tattoo of a Buddha seated on a lotus flower was spotted on her right arm.
After her arrest Coleman appeared before a magistrate who ordered her deportation.