Home Issues


Tibetan Buddhist who self-immolated in India dies of his wounds
by Vishal Arora, RNS, March 4, 2016
NEW DELHI, India -- A 16-year-old Tibetan Buddhist refugee living in India, the exiled home of the Dalai Lama, died of self-immolation, days before the 57th anniversary of the "Tibetan Uprising Day" to protest Chinese rule.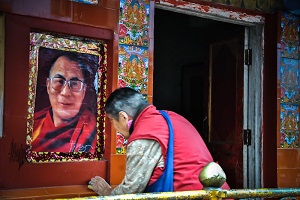 The teen, Dorjee Tsering, died Friday (March 4) in a hospital in New Delhi, where he was treated for burns covering 95 percent of his body.

He had set himself on fire in the northern Indian town of Dehradun on Monday, the same day an 18-year-old Tibetan monk, Kalsang Wangdu, also self-immolated, and died, in Sichuan Province in Tibet.

Lobsang Sangay, the prime minister of the Tibetan government in exile in the Himalayan town of Dharamsala in India, called the deaths "sobering."

March 10 marks the anniversary of the failed 1959 uprising by Tibetans against Chinese rule, after which the Dalai Lama and his retinue fled Tibet and crossed into India for refuge.

Tsering told The Tibet Post from his hospital bed: "I want His Holiness the Dalai Lama to live long and for Tibet to achieve its independence."

A refugee from Tibet, Tsering added: "I thought that there was nothing else I could do other than self-immolation, because if there is self-immolation, people get shocked."

The India-based Tibetan Youth Congress called Dorjee's death an act of "sacrifice for Tibet's freedom and Independence."

Since 2009, at least 144 Tibetans, mostly monks and nuns, have self-immolated to protest Chinese "occupation," according to the International Campaign for Tibet.