Home Issues


Thai Buddhism's unholy mess
by DENIS D. GRAY, Asia Nikkei, March 14, 2016
BANGKOK, Thailand -- For devout Buddhists in Thailand, the images were unsettling: a burly monk grabbing a soldier in a headlock while other saffron-robed clergy scuffled with troopers in what one Thailand-based columnist called "an unholy mess."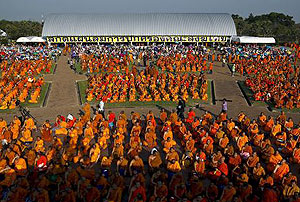 << Buddhist monks take part in a protest against state interference in religious affairs at a temple in Nakhon Pathom province on the outskirts of Bangkok on Feb. 15. © Reuters

What made the events even more troubling was the man at the center of the protest: an aged abbot seeking the country's highest Buddhist office despite being investigated for a tax evasion scam and linked to a controversial religious sect.

Unfortunately, Thais, 90% of whom are Buddhists, have become accustomed to hearing unsavory reports involving monks, including sex scandals, gross materialism and criminal activities, as well as criticism of the Sangha Supreme Council -- the governing body -- as a conclave of old men out of touch with modern society and unable or unwilling to undertake needed reforms.

The February confrontation between monks and military men, involving some 1,200 monks and their supporters on Bangkok's outskirts, dramatized some of the many ills that afflict Thai Buddhism, mainly corruption and politicization.

The protesting clergy are pushing for the selection of a 90-year-old abbot, Somdet Phra Maha Ratchamangalarcharn, more popularly known as Somdet Chuang, to become the next supreme patriarch -- the spiritual leader of the country's Buddhist faith -- despite being investigated for allegedly acquiring a vintage Mercedes-Benz through a tax evasion scheme. There are also doubts about his suitability to serve as Buddhism's guiding light because of his close ties to the Dhammakaya sect and its leader Phra Dhammachayo, a self-confessed admirer of Hitler, who was investigated for embezzling some $25 million in public donations before being cleared by the supreme council last year, although the government has still not ruled on the case.

Buddhist monks scuffle with a soldier during a protest near a temple on the outskirts of Bangkok on Feb.15.

Chuang was nominated by the 20-member council to become the next supreme patriarch on Jan. 5. But Thailand's military government, noting the controversy surrounding the abbot, has delayed seeking the needed royal endorsement of the nomination, which sparked the escalating conflict.

Leading social critic and Buddhist scholar Sulak Sivaraksa said that "a dark era of Buddhism in Thailand will come" should Chuang be appointed. A leading Thai-language newspaper Matichon wrote that the recent deep political rifts in Thailand have "fully infiltrated into the religious realm," and warned that they were threatening to plunge Buddhism into a crisis.

Just how closely politics and religion intertwines is still difficult to discern, but the Dhammakaya sect is seen as supporting the deposed and exiled former Prime Minister Thaksin Shinawatra and his "Red Shirt" followers, so Chuang's elevation would be a setback for efforts by the government of Prime Minister Prayuth Chan-ocha to eradicate his legacy.

Thaksin was overthrown in a 2006 military coup as Thailand spiraled into bloody clashes between his backers and the country's traditional elite. A second coup in 2014, spearheaded by Gen. Prayuth, toppled Thaksin's sister, Yingluck, as prime minister and put the military in charge.

Political involvement

Some monks have since become involved on both sides of the political divide in what many Buddhist scholars consider a violation of the religion's tenant to remain aloof from politics. Thai clergy are, for example, barred from voting.

The Buddhism Protection Center of Thailand, whose members include monks and retired military men, and other supporters are calling for Buddhism to be enshrined as the state religion in a new constitution now being forged by the military government. Thailand has traditionally promoted religious tolerance, with the king acting as the protector of all religions. These groups claim they are shielding the religion against a sea of troubles. They have called for greater public morality, pressuring the government last October to ban a horror film about a monk that they claimed was insulting to Buddhism. More significantly, they oppose interference by the government or others in Thai Sangha, defined as the Buddhist monastic community as a whole.

Other monks have advocated violence. Apichart Punnajanto, a senior monk at Bangkok's famous Wat Benchamabopit, or Marble Temple, wrote on his Facebook page last year that a mosque should be burned for every Buddhist monk killed in southern Thailand's Muslim insurgency.

What stunned some observers more than Apichart's words -- with their negation of the Buddha's core principle of non-violence -- was the response of the Sangha council: total silence. In the eyes of critics, the council and the Buddhist hierarchy it controls, has neither condemned nor eliminated practices such as calls to violence, corruption among even leading clergy, and outdated feudalistic procedures.

"The crux of the problem is the closed clerical system which centralizes governing power within a small group of 20 elders without any internal monitoring and auditing mechanisms. It is a system that is accountable to no one," said a leading reformist monk Phra Paisal Visalo. "The lack of transparency has given rise to nepotism and abuse of power to give favors to the elders' networks."

Phra Maha Boonchuay Doojai of the Chiang Mai Buddhist College, who is involved in inter-faith dialogue and the fight against AIDS, said the senior clergy was largely ignorant of modern society and the few younger members of the supreme council were not powerful enough to exert change. "They are not aware of the changes in society. Monks in Thailand are not taking social issues into consideration. This will be the only way to preserve Buddhism in Thai society. But this is not in the eye of the Sangha," he told the Nikkei Asian Review.

Phra Maha Boonchuay is also campaigning to allow women to become bhikkhunis, fully ordained female monastics equal in almost every way to their male counterparts. This is opposed by the council. The ban forces women to travel to Sri Lanka, where Theravada Buddhism is also practiced, to receive ordination.

There have also been calls for amending the 1962 Sangha Act, which centralized power and allowed the presiding hierarchy to make decisions in secret. Such an amendment could include oversight into the final destinations and uses of some $4 billion in annual public donations to monasteries.

Falling ethical standards

While many of Thailand's roughly 200,000 monks act in accordance with the religion's precepts, modernization has undermined much of their spiritual authority and roles as community leaders. A number have turned to evangelical movements, magic cures and "checkbook Buddhism," ranging from predicting lottery numbers to pardoning misdeeds in exchange for "donations." Some abbots have become rich landlords, evicting poor tenants to gain higher profits from other business activities.

Monks have been convicted of everything from murder to wildlife and drug trafficking to child abuse. One fugitive former abbot, Wirapol Sukhpol, faces charges of drug use, money laundering, fathering a child by an underage woman, and illegally amassing millions of dollars. A photograph showed him seated in a private jet wearing aviator sunglasses and sporting a Louis Vuitton bag.

"There is growing consensus that the Thai Sangha is in state of serious crisis and one of continuing diminishing prestige and respect. It has lost its revered status as the moral center of the Thai polity," said a Bangkok-based scholar of Thai politics and society. "Once a traditional pillar buttressing the nation, it is now shaken and fallen from grace."