Home Issues


Cristiano Ronaldo accused of offending Buddhists with 'disrespectful' Instagram post
by Callum Davis, The Telegraph, 20 October 2016
Madrid, Spain -- When you've got nearly 80 million followers on Instagram, chances are your posts will offend someone.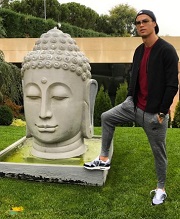 << Cristiano Ronaldo's photo caused a minor stir Credit: Ronaldo Instagram Official

That's exactly what has happened to Cristiano Ronaldo, who has been accused of 'disrespecting' the Buddhist faith after he posted a picture of himself alongside a statue on Thursday evening.

The Real Madrid striker's seemingly innocent pose outside his Madrid home infuriated a number of fans on social media who took issue with Ronaldo's foot position.

Ronaldo's right foot is resting at the base of the Buddhist statue, a detail that prompted a flurry of angry responses from Buddhists.

"Hi dude but its basic knowledge that you cannot put your foot on a religious statue," one follower wrote.



"Pls don 't do this. We r buddhist. My god. My trust. but under of your legs. It's so rude.

"This is not cool at all man. I know ur not Buddhist but plz respect for other religions," added one disappointed fan.

"I'm pretty sure as an educated football player you should have known which kind of behavior can be provocative," wrote another user.

Ronaldo was defended by another fan who claimed the former Manchester United forward meant to cause no offence.

"He wasn't meaning to disrespect any religion guys. have a nice day."

Cristiano Ronaldo failed to get on the scoresheet on Tuesday night as Real Madrid thrashed Legia Warsaw 5-1 at the Bernabeu.

Goals from Gareth Bale and Alvaro Morata ensured that Los Blancos kept in touch with group F leaders Borussia Dortmund on seven points.

After the game Ronaldo met former Rangers and Holland defender, Fernando Ricksen, who is currently battling motor neurone disease.

The 40-year-old watched Madrid's 5-1 win from Ronaldo's box and was later presented with the shirt he wore during the match.





About Us
Get Breaking Buddhist News in your Email. Free subscription.

Please help keep the Buddhist Channel going

Point your feed reader to this location
Wikipedia: Buddhism by Country
Sangha Directory
Ecards
Wallpapers
E-Library
Archives
Sitemap
Submit an Article
Write to the Editor
Affiliation Program