Home Issues


Aung San Suu Kyi must act independently
The Nation, Thailand, Sept 2, 2017
Myanmar leader Aung San Suu Kyi's relative newness to governing is no excuse for failing to act swiftly to end the horrific conflict boiling over in western Rakhine state. The long political struggle she endured before coming to power should have taught her better than most that any military response to a political dispute is bound to fail or even worsen the situation.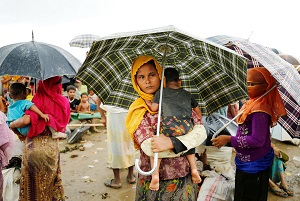 << Rohingya refugees in an open area where they are being held by the Border Guard of Bangladesh after illegally crossing the border, in Teknaf, Bangladesh, on Thursday. PHOTO: REUTERS

In the early hours of Friday last week, the Arakan Rohingya Salvation Army (Arsa) launched coordinated attacks on 30 police and army outposts in Rakhine. Equipped with homemade explosives, machetes and small arms, the militants attacked security forces in Maungdaw, Buthidaung and Rathedaung townships. The government said 10 police officers, a soldier and an immigration official were killed in the assault. The swift response by the Tatmadaw - the armed forces - left at least 77 insurgents dead (and one in custody).



It would seem that the Tatmadaw took advantage of the situation to extend its "clearance" operations throughout the area. Clashes will continue and there is no end in sight to the communal strife between Muslims and Buddhists that has ignited violence repeatedly since 2012.

Ms Suu Kyi characterised the Aug 25 attacks as an act of "terrorism" and urged news media to use the term "Bengali terrorists" rather than "Muslim insurgents". It was a reversal of her directive last year that, to avoid inflaming ethnic tensions, the stateless people of Rakhine should be referred to as "Muslims" rather than "Bengalis" or "Rohingya".

The sharp edge of her dilemma is the Tatmadaw, which continues to wield substantial power despite having relinquished some of the reins of government in an election. The armed forces believe in an eye for an eye and a tooth for a tooth and will show the Rohingya militants no mercy.

Former United Nations chief Kofi Annan, a fellow Nobel Prize laureate of Ms Suu Kyi, released his advisory committee's report just days before the bedlam on Aug 25. The government received it with gratitude. Some members of the government might well be willing to heed its recommendations and grant the Rohingya their overdue rights, enabling them to access medical care and other state services.

The Tatmadaw is unwilling to bend, however, and with the three ministries of Defence, Home Affairs and Border Affairs under its control, it still has Ms Suu Kyi on its reins, if not the government per se. She is going to have to reverse that situation now.





About Us
Get Breaking Buddhist News in your Email. Free subscription.

Please help keep the Buddhist Channel going

Point your feed reader to this location
Wikipedia: Buddhism by Country
Sangha Directory
Ecards
Wallpapers
E-Library
Archives
Sitemap
Submit an Article
Write to the Editor
Affiliation Program