Home Issues


For a casteless resurgence
by RANJIT HOSKOTE, The Hindu, Nov 13, 2005
Nagpur, India -- ONCE a year, the city that marks the Indian subcontinent's geographical centre also becomes a spiritual symbolic centre for the members of India's Ambedkarite Buddhist community, when they come to pay their respects at the Dikshabhumi. This is the site in Nagpur where Dr. B.R. Ambedkar converted to Buddhism with five lakhs of his followers on Vijaya Dashami day, October 14, 1956.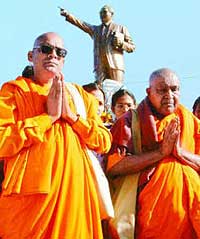 << Dr. Ambedkar's call for emancipation from the oppressive caste system still resonates in the minds of his new followers.
Since the Mauryan emperor Ashoka is believed to have converted formally to the Way of the Buddha on this day, Ambedkarite Buddhists observe it as "Ashoka Vijaya Dashami". This year, over 10 lakh pilgrims converged on the historic site to mark the anniversary; the once-open ground is dominated today by a stupa enshrining an urn that contains Dr. Ambedkar's ashes. Most of the pilgrims who come to Nagpur on this annual journey belong to Maharashtra's rural districts; in recent years, their ranks have been swelled by people from the dalit communities of Andhra Pradesh, Bihar, Karnataka, Tamil Nadu and Ut tar Pradesh. With every passing decade, as the idioms of oppression undergo ever more cruel refinements, Dr. Ambedkar's call for emancipation from the oppressiveness of the caste system resonates in the minds of new followers.
Representative of a cause
An overwhelming proportion of the pilgrims are unlettered and greatly disadvantaged; but the homing instinct that brings them to Nagpur is a testimony to their optimism. To them, their hero has already passed from the realm of history into the realm of a redemptive mythology. Through images and narratives, they recall him as a leader who represented their cause, who fought to assure them a position of dignity and liberate them from the stigma that had marked them for centuries. In mass-produced portraits and songs improvised by performers, cherished as talismans and souvenirs by the pilgrims, the social revolutionary and public intellectual is celebrated as a Bodhisattva who deferred his passage into nirvana so that he might lift the burden of suffering from his fellow beings.
Moving towards Buddhism
Born in the military town of Mhow in 1891 to a family of the Mahar caste (then regarded as untouchable), Dr. Ambedkar went on to become one of the most highly educated individuals of his generation. His gifts were recognised early, and with the support of benefactors, he studied at such prestigious institutions as the Elphinstone College, Mumbai; Columbia University, New York; the London School of Economics; and the Inns of Court. Nevertheless, as a bureaucrat in the princely state of Baroda, whose enlightened ruler had funded his education, Dr. Ambedkar was routinely insulted even by servants and could not find respectable housing. Such experiences of humiliation and suffering led him to work towards educating and mobilising India's "untouchable" masses in a campaign of self-assertion.
In 1935, he made the famous declaration that, even though he had been born a Hindu, he would not die as one. Having considered Islam, Christianity and Sikhism as possible options, he decided in favour of Buddhism: committed as he was to rationality and empiricism, he was attracted by Buddhism's insistence on rationally tuned morality rather than blind belief, its teaching of equality and solidarity, its emphasis on the power of the ethically strengthened will to transform both self and world. Unfortunately for his community, Dr. Ambedkar died on December 6, 1956, barely six weeks after his conversion: in the words of one Buddhist scholar, he was able to accomplish "diksha but not shiksha, conversion but not instruction".
The persistence of caste oppression and constricting caste identities, as well as the need for an amplified programme of education and spiritual reinforcement to make the dalit Buddhist community aware of its rights and opportunities, formed the recurrent motifs of a vibrant discussion at the biannual conference of the International Network of Engaged Buddhists (INEB), which took place in Nagpur in October. INEB, which was founded in Thailand in 1989, brings together Buddhists from diverse social backgrounds, national origins, cultural traditions and teaching lineages. It is premised on the understanding that Buddhist spiritual practice cannot simply be a private activity:
the bases of the Buddha's understanding of human relationships are interdependence and mutuality. So that the practice of the Buddhist dharma necessarily involves its practitioners in the question of the greater common good of all sentient beings, as that question becomes dramatised in the public sphere. IN EB's interests range, accordingly, across a spectrum of issues ranging from alternative education and non-conventional grassroots development to gender asymmetries, ecological struggles and inter-faith dialogue.
The themes of the INEB assembly, organised jointly with the Pune-based Jambudvipa Trust, were "Dr. Ambedkar and the Buddhist World" and "Buddhism and Social Equality". The speakers, who included Asians, Britons, Australians and Americans, lay and monastic practitioners of the dharma, Buddhists of both dalit and upper-caste origin, reflected together on the predicament in which the Ambedkarite Buddhists find themselves today. On the one hand, they must confront the exploitation and derogation they continue to suffer in a Hindu-dominated society that refuses to acknowledge them as equals; on the other hand, they can be manipulated by a populist and opportunist dalit political style that has turned Dr. Ambedkar into an icon but betrays his ideals in practice.
At the conference
A crucial note rang through the conference: the Ambedkarite Buddhist community must engage in dialogue with Indian Buddhists of other social backgrounds, as well as with Buddhists from other countries, so as to overcome the social and cultural limitations imposed on it by a caste-haunted polity. And also so that they may articulate, fully, a vibrant religious renaissance that continues to be dismissed, by its detractors, as an identitarian strategy born of expediency, a "political choice of the downtrodden". Many speakers emphasised that Dr. Ambedkar had never meant his resurgent Buddhism to be confined to a single caste group; indeed, he had always maintained that the first acts of conversion should point to a casteless India of the future, a wider sangha in which all its members could realise their potential, despite the differentials of birth and entitlement separating them. Ironically, yet not surprisingly, this major and critical contributor to India's postcolonial moder nity continues to be seen as a sectarian ideologue.
While returning from Nagpur to Mumbai, this writer found himself wondering whether Dr. Ambedkar would ever be read carefully, or be treated as a thinker of equal importance alongside Gandhi or Marx or the Dalai Lama, in that very different India where the dharma is one among a dazzling array of lifestyle options.
New Age solution?
A sort of lifestyle Buddhism is alive and well in the bookshops and malls of metropolitan India: it embraces the aesthetic of Tibetan prayer beads and flamboyant Vajrayana meditation images; it thrives on such novelties as sand mandalas and incense-fragrant shrines. In the atmosphere of the spiritual supermarket, where many aspirants seem to be shopping for quick-fix New Age solutions rather than apprenticing themselves to a demanding religious and political practice, Buddhism begins to bear the seductive scent of privatism.
The dharma is reduced to a dreamlike play of brands, where the 10-day vipassana course in the austere Theravada tradition, the visualisation exercise in the Tibetan manner, the recitation of the Lotus Sutra in the Japanese Pure Land fashion, and the enigmatic thought-suspensions of Zen are all labels to be worn rather than disciplines to be accepted. And the sangha, here, is diminished to the scope of a small in-group of like-minded enthusiasts.
But there is no reason to abandon optimism, or to believe that the future of Buddhism in India is compromised by this absence of conversation between the two very different milieux in which the dharma is pursued and the sangha is conceived. Already, through such initiatives as the Manuski Centre in Pune, the Dharma Rain Centre in Mumbai, the Foundation for the Preservation of the Mahayana Tradition in Bodh Gaya, to name only a few examples, Buddhists of Ambedkarite and non-Ambedkarite background have begun to understand one another's viewpoints, to reinforce activism with spiritual practice and historical depth, and to collaborate in constructive social action. In the activities of such initiatives, the individual flight of transcendence associated with the dharma is held in firm, enriching counterpoint by the social responsiveness and inclusiveness of the true sangha.