Home Issues


Bhutan's future
The New Nation, Dec 21, 2005
Timphu, Bhutan -- KING Jigme Singye Wangchuk of Bhutan has declared that he would abdicate in 2008 and his eldest son, the crown prince, would take over from him. With this his country would have its first-ever national election the same year to take the road to democracy.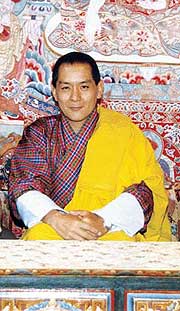 << His Majesty, King Jigme Singye Wangchuk of Bhutan, to abdicate in 2008
The declaration of the monarch of the tiny Himalayan kingdom instead of being received jubilantly has rather sent a shock wave to his countrymen as the Buddhist nation was bewildered at the sudden announcement and many of them, unable to come to terms with the news, joined monks to hold special prayer.
As latest press reports emanating from Bhutan suggest, the people there are happy with their traditional life and system, have nothing to say against the government and the monarch and they don't want any change now. The instant and sharp reaction of the Bhutan's 600,000 people has got possibly true reflection in the statement made by Editor Kinley Dorji, of the lone national newspaper 'Kuensel' in capital Thimphu that the entire nation was bewildered when the king made this surprise announcement and it came so early.
"I was shell-shocked and cried when I heard the news of our king deciding to step down," said a commoner. Apparently being confused at the developments taking place in neighbouring Nepal, the other Himalayan kingdom that has already turned trouble-ridden following parliamentary democracy; the people, used to a traditional pattern of life and living for over centuries, are apparently suspicious of a new system however democratic it is.
The traditional characteristics of a nation or people cannot be changed overnight as the current move for democracy wants an abrupt sweep across the continents for creating a safe and secure world for mankind. Reacting to abdication and parliamentary election news, a retired Bhutanese government official said : "We have not yet understood what could be the implications when there is a change from monarchy to parliamentary democracy. We are offering prayers for the well-being of the country".
The apprehension is following the undesirable happenings in democratic neighbourhood. Democracy is all right, but parliamentary democracy in the former colonial countries is difficult to run for many reasons like lack of higher literacy rate and existence of poverty. Proliferation of political parties with clandestine money and political arrogance on the part of some with instigations from others create impossible situations even deadlock to run parliamentary system in many countries like our own Bangladesh.
However, the news from Bhutan bears great significance for the South Asian region as the 50-year-old King has rightly said, "Why wait for a revolution?" He has rather chosen the right time to change the political system himself when his country enjoys stability and peace as Nepal used to enjoy during monarchy.