Home Issues


Tibet campaign may boil over after Dalai Lama
By Terry Friel, Reuters, Dec 31, 2005
DHARAMSALA, India -- Opposition is growing to the charismatic Dalai Lama's peaceful quest for Tibetan autonomy within China, stoking concerns about the future of the movement after he dies.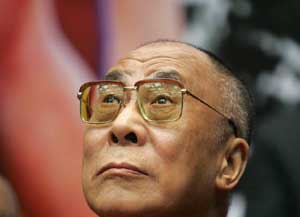 Some Tibetan leaders warn that, if Beijing does not soon seize the chance for a solution that lets it keep the region, it may be too late to head off support for full independence -- especially among restless and frustrated youth.
Many Tibetans, well-educated but jobless, are disillusioned by the lack of progress from the Dalai Lama's "middle way", a campaign for special autonomy for Tibet as part of China.
"There is growing criticism of our approach, and in the meantime there is no sign of improvement inside Tibet," the Dalai Lama, the face of the Tibet struggle, told Reuters this week in a rare interview at his palace high in the Himalayan foothills in northern India.
"Our response to them has been 'Be patient. More patience, more patience'.
Now 70, the winner of the Nobel Peace prize in 1989 for his peaceful campaign against Chinese rule has renounced any goal of independence and says he only wants more autonomy for Tibet.
NO REWARD
However, China itself has shown little inclination to reward the efforts of a man it still labels a traitorous separatist, and will not even acknowledge several rounds of tentative talks with his private representatives over the past three years.
Other exiled Tibetan leaders say the only thing now keeping their community united behind the "middle way" is the Dalai Lama himself -- which they say is a recipe for future crisis.
"That leadership crisis really bothers us," says Kalsang Phuntsok Gordukpa, 42, head of the exiles' Tibetan Youth Congress. "Almost every Tibetan has started wondering what will happen if the Dalai Lama is no longer there."
Thupten Phelgye, a 50-year-old monk who spent five years alone meditating on a mountain and is now a member of the parliament-in-exile, is also concerned.
"If in the future something goes wrong, then we cannot be held responsible," he said. "We cannot guarantee that this policy will be there forever."
The Dalai Lama, who rises before dawn and exercises every day, sometimes on a recently acquired treadmill, appears healthy and energetic, apart from a nagging cough.
He maintains a gruelling work and prayer schedule that would exhaust people half his age, and constantly punctuates his conversations with bottom-of-the-belly laughs.
"CHINA IS CHANGING"
His Holiness, as everyone in Dharamsala calls him, says he understands those who are frustrated and impatient, but remains convinced his way will work, and that Tibet's 6 million people will benefit greatly by being part of the word's most populous nation and its growing economic and political power.
"If you look from a wider perspective, then the Tibet issue is very hopeful because China is changing," he says, referring to what he sees as an increasing emphasis on unity and harmony.
"We always make it clear that we want a solution within the constitution of the People's Republic of China, so I feel eventually some result will come."
But not soon enough for those who increasingly talk of taking up arms and not being bound by Buddhist pacifism.
They speak fondly of what they see as the glory of Tibet's guerrilla war against China four decades ago.
"Definitely we have a huge section of the Tibetan youth community which believes that our movement is like any other movement in this world," says the youth Congress's Kalsang.
"For Tibetans as such, violence is something we cannot normally think of. But we have again a youth section which is not so much influenced by the Buddhist philosophy.
"They are very much attracted by the movements which are going on all over the world, mostly violence-infested movements, and people see they are achieving results.
But Kalsang stresses it is all talk right now.
Phelgye, the monk, says he can see both the frustration with the Dalai Lama's middle way and the reality of a growing China that everybody wants to be with.
He is also very aware of how Tibet's world will change when the Dalai Lama is no more.
"This will be like the sunset for us," he says. "But of course, when the sun sets, it also rises again. It may take some time. (But) We will find him again."