Home Issues


China: Buddhism As An Image Booster Or Social Stabilizer?
By Breffni O'Rourke, Radio Free Europe/Radio Liberty, April 12, 2006
Prominent Buddhists from many countries are gathering for the World Buddhist Forum in the Chinese resort of Hangzhou. This is the first international religious conference to be held on the Chinese mainland since the communists came to power in 1949. So why is China hosting this event now, at a time when it is cracking down on dissidents and even internet users?
PRAGUE, Czech Republic -- Given Karl Marx's belief that religion is the opiate of the masses, it is ironic that communist China is this week hosting the World Buddhist Forum.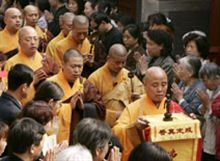 << Buddhist monks in procession
The four-day event, which starts on April 13, is expected to bring together some 1,000 monks and Buddhist scholars from a number of countries to discuss the notion that "a harmonious world begins in the mind."
Professor Jonathan Ungerer, a sociologist at the Australian National University in Canberra, says that, in his view, the forum is mainly to convince the outside world -- particularly its Asian neighbors -- that China is becoming more tolerant towards religion.
"I think the Chinese government is strategically advertising this forum in order to shine up China's image; it's an appeal obviously to people abroad who are Buddhists," he says.
Ungerer supports his view that the forum is mainly an image-building exercise by pointing to the suppression in recent years of the Falun Gong movement. The sect, which sprang from Buddhist traditions, grew so rapidly that the Communist Party began to see it as a potential threat.
A Harmonious Religion For A Harmonious China?
At the same time, analysts note that the seminar's title -- incorporating the words "harmonious world" -- is close to the wording President Hu Jintao is using in his campaign to build what he calls a "harmonious society" in China.
Does Beijing perhaps view religion as a tool to help a country and economy in transition? At any rate, Chinese officials have been saying openly that Buddhism can be used to ease some of the social tensions that have developed during China's rapid industrialization over the past few decades.
The spiritual director of the Advayavada branch of Buddhism, Dutchman John Willemsens, says the most important emotion in Buddhism is equanimity -- the quality of facing events good and bad with the same calm and detachment.
That has obvious application in getting people to accept, for instance, poverty alongside wealth. But Willemsens does not believe China can escape its economic troubles through philosophy.
"In most Buddhist countries, social problems are far from being solved," he says. "If you take a land like Myanmar [Burma], or even Thailand or Sri Lanka, these are countries that are typically Buddhist but that have not solved any of their problems."
Yi Yi Lu, an analyst with Britain's Royal Institute for International Affairs, nevertheless sees progress in China's attitude to religion -- at least concerning Buddhism.
Lu points out how the attitude to heritage issues has changed since the wanton devastation of Chairman Mao's Cultural Revolution of the 1960s.
"There is a link to the idea in recent years that traditional Chinese culture has its good aspects that need to be revived and need to be handed down, rather than [discarded]," Lu says. "That is certainly a reversal from previous policies like the Cultural Revolution when everything about traditional Chinese culture was banished, or destined to be destroyed."
The Dalai Lama, the spiritual head of Tibetan Buddhism and a strong critic of Chinese policies on Tibet, will not be attending the World Buddhist Forum. The Dalai Lama lives in exile in India.
It is not clear if Tibet's second-ranking spiritual figure, the Panchen Lama, who is recognized by Beijing, will be attending.