Home Issues


Stop Forced Religious Conversions!
by UDIT RAJ, Outlook India, Sept 22, 2006
Has the Sangh Parivar and the Gujarat government sought prior permission of Buddhists and Jains to make them part of Hindu religion? If not, it is nothing but a case of forced conversion. The real danger to Hindu religion is from within because of its own weaknesses
New Delhi, India -- The Sangh Parivar is not able to resolve the dangers looming large on the caste-based Hindu religion on its own. There is a saying that you should first try to resolve your differences on your own, and then consult your neighbours. But instead of taking recourse to either of these options, they start finding fault with Christians or Muslims — Jains and Buddhists have now become their latest targets.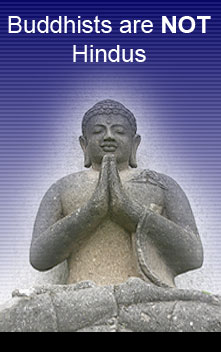 On the 19th September, 2006, the Gujarat Assembly passed the Religious Freedom (Amendment) Bill stating that prior permission is required from the government before seeking conversion to any religion and as if this was not enough, Chief Minister Narendra Modi has done what has not been done anywhere else by declaring that Buddhists and Jains shall be treated as a part of Hinduism.
For certain limited purposes, in certain matters like marriages etc., Buddhists, Jains and Sikhs have been included in the ambit of Hindu religion in our Constitution — but in Articles 25 to 30 of Constitution, it has been explicitly stated that Buddhism, Jainism and Sikhism are three separate religions.
It is very clearly stated: 'Every person in India, is equally entitled to freedom of conscience and the right to freely to profess, practice, propagate religion.' The Supreme Court and the Minorities Commission have also held the view that Sikhism, Jainism and Buddhism are distinct identities — and are not a part of Hindu religion.
It is interesting that using the same Article 25 (Clause 2) illogic (read in isolation), Sikhs too should have been covered by the Gujarat bill. But the bill doesn't do so. It has not declared Sikhs as part of Hindu religion out of cowardice. About two years back, when the RSS Sarsanghchalak, K.S Sudershan had declared in a statement that Sikhs were part of Hindu religion, the Sikhs had flared up and challenged the description, letting it be known that they were fully competent of looking after their distinct religious identity. The situation had became very volatile, and perhaps BJP is aware of the sensitivities of its Shiromani Akali Dal allies and its electoral fall-out, which is why Sikhs have been kept out this time.
But just consider how these religions came into being.
Buddhism came into existence in the backdrop of rampant social evils prevailing in the society when Lord Buddha observed that there was widespread violence, untouchability and discrimination against women. Humanity was his only concern and amelioration of the miseries of human beings his ultimate goal —and he laid down certain norms for achieving this goal. "I teach one thing and one thing only: suffering and the end of suffering" In real terms, it is not a religion but dhamma which means that human beings should do such deeds which should remove others' miseries and bring happiness to others.
Similarly with Jain Dharma, as Lord Mahavira spoke out against the social evils and violence prevailing in the society at that time, urging the people to follow the path of truth and non-violence. Gurunanak Devji also fought against discrimination and religious dogma of those times and urged the people to follow the righteous path. All these religions came into existence on a parallel basis and not as an off-shoot of Hindu religion.
Till now only Muslims and Christians were being targeted by the Sangh Parivar —but now Buddhists and Jains are also on their agenda, but through the back-door. Has the Sangh Parivar and the Gujarat government sought prior permission of Buddhists and Jains to make them part of Hindu religion? If not, it is nothing but a case of forced conversion.