Home Issues


What now for the Dalai Lama
by Rosslyn Beeby, The Canberra Times, June 18, 2007
Canberra, Australia -- A FEW WEEKS before his 11-day visit to Australia, His Holiness the 14th Dalai Lama told an audience at a university in Massachusetts, "Within a few years' time, I will retire completely."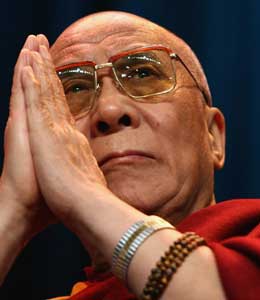 << The Dalai Lama

Is he serious? The 71 year-old spiritual leader of Tibet is renowned for his sense of humour and ability to undercut formality with well-timed wit and ironic understatement.

The "news" of his impending retirement (pounced upon and reported widely in China) may have been in the same vein of self-deprecating humour he showed in Brisbane last week, when he told Bindi Irwin the koala she was holding was "lazy like myself."

Lazy? The world's most famous monk doesn't get many days off, despite the claims his life revolves around simple daily routines.

His official website outlines a typical day's activities for the Dalai Lama when at home in Dharamsala, in in the North Indian state of Himachal Pradesh, where he has lived since since escaping into exile in 1959 after a succession of failed uprisings against the Chinese invasion and armed occupation of Tibet.

He wakes at 3.30am and begins the day with "prayers, meditations and prostrations" until 5 am.

He takes a walk, has a hot breakfast of porridge and tea while listening to the BBC World Service news, then spends the rest of the morning in meditation, prayer and studying historic Buddhist texts.

After lunch, he holds audiences and interviews, "both Tibetan and non-Tibetan", retiring to bed at 8.30pm after a 17-hour day (Bindi, that's a very, very busy koala).

When not at home in Dharamsala these simple routines (meditation, prayer and study) are interrupted by a busy schedule of public speaking engagements, political and diplomatic meetings, public teachings and the inevitable administrative detail of global travel arrangements.

Somewhere in this hectic schedule, the Dalai Lama has found time to write, edit, dictate or contribute to more than 40 books as well as film a series of Buddhist lectures (or dharma talks) that are webcast on on his official website.

"Sometimes, I do feel, like on Saturday or Sunday, that the Dalai Lama, too, should have a Sunday," he told a British interviewer who asked if would like to leave religious protocol and politics behind. But, as the journalist noted, the Dalai Lama laughed heartily at the thought of having a day off, and joked that his spiritual responsibilities even required he return to Earth after death to ease human suffering.

"Whether I like it or not, I have to come back. I have no say in the matter," he said, apparently much amused by the thought of having no avenue of escaping his spiritual commitments.

For almost five decades, he has been a global ambassador for the Tibetan cause, and a constant reminder that each year, more than 2500 Tibetan refugees seek political asylum from human rights abuses in their occupied homeland.

The Dalai Lama's dramatic escape from Tibet was one of the biggest news stories of 1959 and immediately established the 24 year-old Tibetan leader as a world figure. He has said on numerous occasions that the sense of statelessness was overpowering for a figure who had previously embodied the state, "but being a Buddhist, impermanence is at the heart of my philosophy".

The most important challenge was to preserve Buddhist culture.

The spiritual director of the Tibetan Buddhist Society of Canberra, Lama Choedak Rinpoche, was four years old when his parents followed the Dalai Lama into exile in 1959. He isn't concerned by talk of the Tibetan spiritual leader's retirement, pointing out that Dalai Lama has become so synonymous with Tibet "that he can never retire even a photograph of His Holiness is enough to remind people of Tibet."

Through his writings and public speaking engagements around the world, the Dalai Lama has raised global awareness of Tibetan culture and the country's continuing political plight, Rinpoche says. "As Tibetan monks, wherever we go in our robes, people instantly recognise who we are and they want to talk about the Dalai Lama.

He may retire a little from public life in coming years, but his influence will last for many, many generations. He will never be forgotten."

Australian Greens leader Senator Bob Brown has been a long-time supporter of the Tibetan cause, travelling to Tibet twice with former Prime Minister Gough Whitlam in 1990 and in 1998 as an incognito visitor, when Chinese officials failed to link the passport of one Robert Brown with Bob Brown, the politician who had denounced the army's suppression of the Tiananmen square protests during his previous visit.

"When the Dalai Lama talks of retirement, he's referring to political retirement, and handing some of his duties across to the government-in-exile. There are no signs that he wants to slow down he's intellectually vigorous and physically well."

Senator Brown says the global focus on human rights abuses in China and Tibet will increase in the lead up to next year's Beijing Olympics.

"There have already been protests in Tiananmen Square and Mount Everest, and political protest will increase rapidly in the months leading up to the Olympics."

The Chinese media seized on the Dalai Lama's casual remarks about impending retirement, speculating that he intended to stop pursuing his campaign for Tibetan autonomy.

But the Taipei Times reported the Dalai Lama intended to delegate more responsibility to the Tibetan government-in-exile in Dharamsala, and "continue as a senior advisor until a solution is found to the Tibetan question".

A spokesman for the Tibetan leader told the newspaper the Dalai Lama would "continue to be the spokesperson of the 6 million Tibetans, because he is undisputedly the leader of the Tibetans people look up to him to lead".

Talk of his eventual retirement isn't a new topic for the exiled spiritual leader, who has joked about "retiring" for almost a decade.

"If I were not the Dalai Lama, I would prefer to remain in an isolated area and spend more time in meditation. I expressed my desire to take a three-year retreat in complete isolation," he told a student newspaper in the United States, during an interview in 1997.

A three-year retreat (or more correctly, three years, three weeks and three days) in isolation is part of required training for Buddhist lamas. Was the Dalai Lama expressing a desire to wind back his responsibilities or using the interview to remind Buddhist readers that there's no escape no matter how exalted your status from cultivating spiritual discipline through meditation. If I wasn't the Dalai Lama, I'd be going back to basics, was the message.

"If the opportunity comes to return to Tibet, I would like to go to as many places there and in mainland China as I can. But I do not want to discontinue or neglect my connections with friends in the outside world. I consider the friendship, support, and help we have received during our difficult period very, very precious. It is absolutely wrong to forget these friendships, so until my death, I want to keep these close relations. In the meantime, I want to spend more time in some remote place in meditation. That is my wish," he told the student newspaper's reporter.

There is a popular Tibetan prophecy that claims there will be 17 Dalai Lamas, after which the religious institution will end because people will be so enlightened there will no longer be as need for a Dalai Lama to exist.

On his website, the Dalai Lama explains that since 2001, the Tibetan government-in-exile has a democratically elected head of the Dalai Lama's administration, the Kalon Tripa who "runs the daily affairs of our administration and is in charge of our political establishment half jokingly and half seriously, I state that I am now in semi-retirement."

But whether the institution of the Dalai Lama remains or not depends entirely on the wishes of the Tibetan people.

"It is for them to decide. I made this clear as early as in 1969. Even in 1963, after four years in exile, we made a draft constitution for a future Tibet which is based on the democratic system. The constitution clearly mentions that the power of the Dalai Lama can be removed by a two-thirds majority vote of the members of the Assembly," the Dalai Lama says.

"At the present moment, the Dalai Lama's institution is useful to the Tibetan culture and the Tibetan people. Thus, if I were to die today, I think the Tibetan people would choose to have another Dalai Lama.

"In the future, if the Dalai Lamas institution is no longer relevant or useful and our present situation changes, then the Dalai Lamas institution will cease to exist. Personally, I feel the institution of the Dalai Lama has served its purpose."