Home Issues


Teachings of Some Christian Churches Drive Some Converts to Buddhism
By Robert Williams, Christian Today, June 19, 2007
Sydney, Australia -- As the Dalai Lama completes his tour of Australia, his visit has been seen by some as boosting the number of adherents to the Buddhist faith as the religion is now moving towards the Australian mainstream.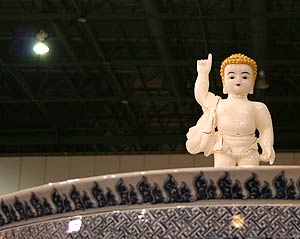 The Voice of America (VOA) reported that Tibetan nuns chanting traditional prayers are increasingly common in Australia, as the nation has more Buddhists per capita than anywhere else in the Western world.
Experts who study religious trends in Australia say many converts to Buddhism found the teachings of some Christian churches too rigid and intolerant of questions about the faith, reported the VOA.
In a three-year national study on the religious behaviour of Generation Y published last year, the co-author of the study, Dr Andrew Singleton from Monash University said that Generation Y in Australia is gradually departing from religion where some are turning to alternative spiritualities.
However the number turning towards these alternative spiritualities is not as big as Dr Singleton expected. He said: "It's well-known that there has been a turn away from church attendance and participation in young people. But we thought there was going to be a move towards alternative spiritualities. There are still a number turning towards it, but not as big as you would have thought."
The survey found 20 per cent of young people did not believe in a god and 32 per cent were unsure.