Home Issues


Who is the Dalai Lama, and why is he the focus of protests over Tibet?
By Paul Vallely, The Independent, March 19, 2008
Why are we asking this now?
Dozens of people have died in mass protests against Chinese rule in Tibet. Protestors on the streets of Lhasa set fire to Chinese businesses and smashed government buildings. The demonstrations began whenBuddhist monks marched from their monasteries on 10 March, to mark the 49th anniversary of a failed uprising against Chinese rule in Tibet which in 1959 tried to restore the Buddhist leader, the Dalai Lama, as the political leader of Tibet.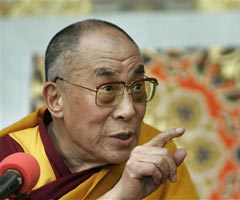 Some of this year's protestors were arrested. The next day, even more monks marched. As the news spread, Tibetans in China, Nepal and India, took to the streets, too.

What are the protests about?

More than one sixth of the 6m population died when the Chinese invaded Tibet in 1950, claiming that Tibet had officially been part of the Chinese nation since the 13th Century. Tibetans riposted that their land had been an independent kingdom for many centuries – ruled by Dalai Lamas since the 17th century. Tibet had declared itself independence in 1912 and functioned autonomously until the 1950 invasion – an event which still rankles among Tibetans. In the early years the Chinese maintained control by force. Troops were brutal in their treatment of the local people. Tibet's culture was suppressed, its monasteries closed and its language outlawed from its university.

More recently Beijing has attempted to pacify Tibet by importing huge numbers of ethnic Chinese to outnumber the Tibetans in their own land. Tibetans resent these Han Chinese migrants, saying they take the best jobs. They also claim that their land has been left behind in the economic boom which much of China has enjoyed, though Tibet suffers from China's rapidly rising inflation. The Dalai Lama has spoken of "cultural genocide – denying Tibetans equal social and economic status in our own land".

Who exactly is the Dalai Lama?

Tibetan Buddhists believe him to be the 14th reincarnation of the original Dalai Lama, a spiritual leader who was born in 1351 and who was said to be the reincarnation of Avalokiteshvara, Buddhism's Bodhisattva of Compassion. The current Dalai Lama was born into family of peasant farmers in a small village in north-eastern Tibet in 1935. When he was three years old the visiting monks named him as the reincarnation of the 13th Dalai Lama, who had died four years earlier.

In 1950, aged 15, he took the throne as the temporal leader of Tibet – just as the Chinese invaded. Seven years later he escaped, and settled in Dharamsala in northern India where he established a government in exile just as a delegation of Tibetans summoned to Beijing signed away Tibet's independence.

So is he a spiritual or political leader?

Both. Six million Tibetan Buddhists look to him for religious guidance but he is also leader of 100,000 Tibetans living in exile in India and the world's most prominent political refugee. Since fleeing Tibet he has dedicated himself to campaigning internationally for his exiled homeland, but always stressing the need for non-violence – a stance which won him the Nobel Peace Prize in 1989.

The Dalai Lama has trod a careful line which has kept him spiritually pure but also politically crafty. He has come up with a "middle way" to resolve the status of Tibet – autonomy for Tibet within China. He speaks differently to Tibetans and to Westerners. With his own people he is, like previous Dalai Lamas, serious and directive about what they should do. With Westerners he does not pontificate from a high moral position but is an altogether more genial figure who talks with humility from his own Buddhist practice. He is warm and humorous. His medium is his message. But when he speaks to Western Buddhists he often warns them "to be interested in religion you have to be involved in politics".

Why is he so well-known?

The Dalai Lama is the man who brought Buddhism to Hollywood. Buddhism is the fastest growing Eastern religion in the West. It is fashionable among the secularish chattering classes because it encourages enquiry rather than dogma – offering all the joys of belief without the encumbrance of having to believe anything very much. Buddhist practices such as meditation have been taken up across the whole of the New Age movement. It is the latterday astrology of the Western middle classes. Ironically the Dalai Lama is not in search of converts. If people find their own culture's spiritual traditions, he says, they should look into themselves to find out why. But his charisma and tolerance have made him one of the best-known religious figures alive today.

If he is non-violent, why are his followers rioting?

Because many younger Tibetans have become impatient with his pacifism and – to the disapproval of the Dalai Lama and the alarm of the Chinese government – have turned to violent protest, though their targets seem to have been property rather than people. But yesterday the Dalai Lama told reporters that events were out of his control in Tibet and said he will resign if violence in his homeland worsens.

How has China reacted?

Violently. At least 99 people have been killed, including 19 shot dead by security forces in China's northwestern Gansu province. The Beijing government blames the Dalai Lama and says his "Tibetan mobs" have killed 13 "innocent Chinese". The Chinese Premier Wen Jiabao yesterday said: there was evidence "that this incident was organized, premeditated, masterminded and incited by the Dalai clique".

Will all this affect the Olympic Games?

Probably. Campaigners inside and outside China are planning to use the Games in August to highlight their cause. The journeying of the Olympic torch through Tibet, and up Mount Everest, in June, on its way to the Games, could be a flashpoint. Tibetan activists demonstrated outside the International Olympic Committees headquarters yesterday demanding the torch, supposedly a symbol of understanding, be re-routed.

What next?

Anything. Protests have now spread to other Chinese provinces bordering the Himalayan region. Tibetans have staged demonstrations in the provinces of Gansu, Qinghai and Sichuan. China's Ministry of Public Security ordered an increased police presence there. Tensions are rising. The Chinese police have put down their batons and picked up their rifles.

Is the Dalai Lama responsible for the violence in Tibet?

Yes...

* His campaigning for autonomy for Tibet, in the face of political reality, has encouraged false hopes among protesters

* The Chinese claim to have evidence that the unrest was 'masterminded and incited by the Dalai clique'

* Though his words are those of a man of peace his actions are those of a cunning politician

No...

* He has a life-long commitment to peace, and would only accept protest in his name that was non-violent

* The Chinese authorities, yet again, have sent armed troops in to deal with unarmed civilians

* Beijing's policy of flooding Tibet with Chinese immigrants is the real cause of the deep resentment among Tibetans