Home Issues


Dalai distances himself from Sharon Stone's comment
PTI, June 12, 2008
MELBOURNE, Australia -- The Dalai Lama on Thursday tried to distance himself from Hollywood actor Sharon Stone's controversial "karma" remark linking China's devastating earthquake to Beijing's handling of Tibet.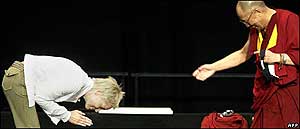 << Sharon Stone and the Dalai Lama (Filepic)
The Tibetan spiritual leader, who is on a visit to Australia, said though he believed all events are a 'karmic fallout', but he did not agree with Stone's remark.
"Of course from a Buddhist viewpoint, every event is karma," the 72-year-old monk told a news conference.
"Tragedy in Tibet, tragedy in Burma (Myanmar), tragedy in China, all this is karmic ... but her particular sort of comment -- that I don't know," winner of the 1989 Nobel peace prize added.
Stone had provoked outrage across China for her comment attributing the natural calamity to the unrest in Tibet.
"And then all this earthquake and all this stuff happened, and I thought, is due to Karma, when you're not nice the bad things happen to you", the 50-year-old star of 'Basic Instinct' film fame had said at the Cannes film Festival last month, referring to the Dalai Lama as a "good friend".
Despite issuing an apology, she was not extended an invitation to the Shanghai film festival last week.
The May 12 earthquake in China -- the deadliest in three decades -- wreaked havoc in the Sichuan province killing close to 70,000 people.