Home Issues


Buddhism's allure fading for some young Tibetans
By Emma Graham-Harrison, Reuters, Feb 18, 2009
TSEDANG, Tibet (China) -- Mima Tsering can call on over a millennium of religious learning and several priceless relics to help tempt young would-be monks into taking their vows, but lately he worries their attractions may be waning.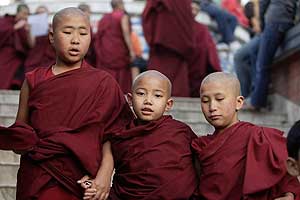 Abbot of one of Tibet's oldest temples, his prayer hall is full and the youngest recruit is only 20.

But after centuries in which monasteries offered a chance of education and relief from the tough life of a peasant farmer on the Himalayan plateau, they now compete for youngsters who grew up with television, schools, the Internet and other job options.

"I am a little concerned about it, and hope that more young people can take an interest in the monastic life to keep our religious traditions alive," Tsering told Reuters in a corner of the Trankdruk monastery alive with chanting, drums and gongs.

Religion is central to both Tibetan identity and to Beijing's years of conflict with the restive mountain region. Since Chinese Communist troops marched on to the plateau in 1950, most major bouts of unrest have started with protests by monks.



And anger at China's control of the "land of the snows" has been sharpened by constraints imposed by Beijing on monasteries and its denunciation of the exiled Dalai Lama, ultimate spiritual leader for many Tibetan Buddhists, as a scheming separatist.

There are still peasants with religious duties handed down in the family or who prefer a life at a temple to one in the fields.

The ticket collector at one of Tibet's oldest palace-shrines, the Yumbu Lhakang, is among them.

At 26, Tsering Daowa left a life of farming to move into the hilltop retreat and study from the lamas as a kind of lay monk.

"I prefer this life, where I can study the scriptures," he said, glancing across prayer-wheels and incense burners to a pristine valley far below.



PRAYERS ONCE A YEAR



But three decades of modernisation across China have brought new money and a new way of life for many Tibetans, even if they are unhappy about other changes to their lives or the competition for jobs with migrants from other ethnic groups.

"The younger generation are certainly a bit less religious than their parents," said Damula, an ethnic affairs official in the regional government who like many Tibetans has only one name.

While young monks chant in the icy central chamber of Tsering's monastery, boys almost their age soak up the fierce Himalayan sun as they practise for a dance competition in a village not far away.

"I'm not really religious. I go once a year to pray at the Yumbu Lhakang palace for luck," said one 16-year-old from the hamlet of Kesong, during a break from his routine.

None of his friends is a devout Buddhist, he added.

In the cities, where the lure of modernisation and the temptations of a secular life are closer and stronger, the temples are also losing their power.

"I've brought my mother here because she likes to make pilgrimages, but I am not really religious myself," said 33-year-old Chamba, a postman from Shigatse visiting Lhasa.



FASHIONABLE BELIEVERS?



A weakening in religious fervour and a fall-off in the number of monks would probably please Beijing, already accused by exiles of diluting traditional culture by encouraging migration of Han Chinese to the region.

Party officials have tried to weaken religion's grip on Tibetans, and gain some measure of control over institutions like the selection of new incarnations of senior lamas. But a lack of faith could radicalise anti-Chinese Tibetan youth.

But some young people in towns are also exploring Buddhism as part of a wider search for a more modern Tibetan identity.

"Tibetans are becoming much more assertive and confident than they have been in the past," said Tsering Shakya, research chair at the University of British Colombia.

"There is a growing number of young Tibetans who speak fluent Chinese, are well educated and don't see themselves as a backward minority," he added, highlighting a booming blogging culture and thriving modern literature as part of the trend.

Some are embracing practices like vegetarianism, not a major part of traditional Tibetan Buddhism. Others have updated their outfits but held on to their parents' beliefs.

"I come every week to pray," said 18-year-old Zongzi, walking a pilgrim circuit in Lhasa with her mother.

The high-school student -- dressed in a pink sweatshirt, fashionable jeans and trainers, and with her nails painted black -- was a striking contrast to most of the older, weather-beaten men and women in traditional clothes walking beside her.

But she was equally serious about her faith.

"Tibetan books all talk about religion, but reading is not the same as seeing with your own eyes, doing it yourself."





About Us
Get Breaking Buddhist News in your Email. Free subscription.

Please help keep the Buddhist Channel going

Point your feed reader to this location
Wikipedia: Buddhism by Country
Sangha Directory
Ecards
Wallpapers
E-Library
Archives
Sitemap
Submit an Article
Write to the Editor
Affiliation Program