Home Issues


'Murder in the Snow'
by Amy Yee, Far Eastern Economic Review,March 2009
Dharamsala, India -- Lobsang Samten is a tiny 18-year-old who wears the red robes of a Tibetan Buddhist nun. Her head is shaved to a fine, black stubble.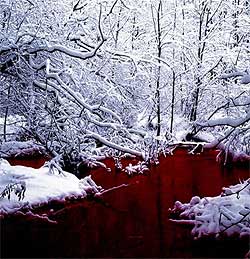 It is hard to believe that this shy, diminutive woman raced over a Himalayan glacier as Chinese border police shot at her and 74 other Tibetans trying to escape to Nepal. Their crime? The desire to go to school, practice their religion and see the Dalai Lama.

That is what happened in September 2006 on a harrowing morning captured on video by a Romanian mountaineer at Cho Oyu Base Camp who happened to film the incident. The chilling footage is part of a new documentary called "Murder in the Snow," that premiered in Dharamsala on Feb. 28 in the exile home of the Dalai Lama and 12,000 Tibetans, including Lobsang.

At least one Tibetan in the unarmed group, a 17-year-old nun named Kelsang Namtso, was shot by the Chinese border police and likely died (the authorities have yet to release any details about her condition or whereabouts) on that icy glacier just 400 meters from the Nepal border. Several children were part of the group; they were caught by Chinese security and brought back to Tibet.

Steve Lawes, a British mountaineer, witnessed the shooting. "In the UK if you shoot someone who is going away in the back, posing no threat to you whatsoever—even if they just burgled your home—that is going to be murder," said Mr. Lawes, who is a police officer in the UK.

The film was screened ahead of the 50th anniversary of the Tibetan exile this March in a stark reminder of the repression in Tibet. That repression continues. In January, China launched a "Strike Hard" campaign and stepped up security, sentencing and arrests across Tibet and western regions of China in anticipation of unrest pinned to this month's milestone.

In spite of the Chinese clampdown, pro-Tibet demonstrations are already erupting with dire consequences for protestors. On Feb. 27, a monk in his 20s unfurled a Tibetan flag and self-immolated in Amdo Ngaba, in Sichuan province. Chinese police shot the monk as he burned, says the International Campaign for Tibet, a Washington-based advocacy group. In January, a 24-year-old man in Chamdo was beaten to death by Chinese security after he marching with a pro-Tibet banner.

Reports of human rights violations constantly trickle out of Tibet, but it is shocking to see actual events, as depicted in "Murder in the Snow." The raw footage, unprecedented for what it reveals, shows a trail of people climbing up a steep white mountain. Shots crackle through the air and the last figure, Kelsang Namtso, collapses in the snow. Still photos taken by another mountaineer show Chinese border police surrounding the fallen nun after she has dragged herself through the snow in a last effort to climb the mountain. They are taking pictures of her body.

Sally Ingleton, an Australian filmmaker who produced "Murder in the Snow," remembers hearing about the footage when it aired on Romanian television after the mountaineer, a professional cameraman, smuggled the film out of China. "I saw the footage and immediately thought, this is it, this is the film," says Ingleton who was in Dharamsala for the Indian premiere of her documentary. "I felt very strongly that that girl's life had to be remembered so she didn't die in vain. I thought the story might expose the situation inside Tibet and that the atrocities continue."

Last weekend thousands of Tibetans gathered in the courtyard of the main Buddhist temple in Dharamsala to watch "Murder in the Snow." Some held candles that flickered in the dark. Tibetans in the audience who were born in India murmured as they watched footage of the grueling journey undertaken by their compatriots. People clicked their tongues as shots rang out over the icy mountain on screen.

It was a sober conclusion to Losar, the Tibetan new year, which turned into a period of mourning and protest in lieu of the usual lively festivities of music, firecrackers and guzzling of chang, Tibetan barley beer.

The boycott of Losar this year began within Tibet and spread to Tibetans in exile. Because of the casualties, arrests and repression in Tibet over the past year, the Dalai Lama also agreed that Losar should be a solemn affair.

"The occasion of this New Year is certainly not a period when we can have the usual celebrations and gaiety," said the Dalai Lama in a statement last week. "I admire the determined move by Tibetans, inside and outside of Tibet, not to indulge in celebratory activities during this New Year."

At a time when Tibetans normally feast to usher in an auspicious new year, 50 monks last week staged a three-day hunger strike near the pollution-choked bus stand in Dharamsala. Students for a Free Tibet erected a board with a caricature of Hu Jin Tao and invited Tibetans to throw shoes at the Chinese prime minister who was dubbed "Shoe Jin Tao."

Losar concluded with thousands of Tibetans marching in a candlelight vigil that led to the screening of "Murder in the Snow" last Saturday in front of the Dalai Lama's compound.

Even after viewing the dramatic day she fled Tibet on a huge screen, Lobsang is calm. "What we suffered and what we've been through is not a lie. It's true. I'm happy it's known to the world," she says softly.

The temperature that evening in Dharamsala dipped to the 40s but Lobsang seems unaffected by the chill. One bare arm protrudes from her robes, hinting at her physical toughness. Why did she, at age 16, choose to pay a guide ,000 to make such a dangerous escape from Tibet?

It is a simple answer for Lobsang, who hails from rural central Tibet. "We have no access to education, whether religious or normal schools. If we try to some prayers, the Chinese will accuse us of praying for the Dalai Lama. If you do, you could be taken to prison," she explains.

The foreign mountaineers in the film are bundled up in Gore-Tex and high-tech winter gear. They inch along on the ice with crampons on their boots. How did she climb the 6,000 meter Nangpa pass after ten days of walking in regular clothes, fueled only by barley and bits of dried meat? "We kept thinking we should make it to India, we should have an audience with the Dalai Lama," Lobsang remembers. "Finally, I made it to India. I feel like it's a dream come true."

Today, Lobsang studies at a nunnery in Dharamsala. Other refugees in her group have enrolled in Tibetans school in India or are working.

Freedom in exile is immeasurably better for Lobsang than repression in Tibet. Yet she still longs for the home and family she left behind. "I have no choice but to stay here considering what's happening inside Tibet where there's no freedom at all," says Lobsang, pulling her red shawl over her bare shoulder. "Every day I dream of going back."

-----------
Amy Yee is a journalist based in New Delhi.