Home Issues


Whereabouts of Tibetan monk arrested last year remain unknown
AsiaNews, June 24, 2009
Nothing is known about Ngagchung who was arrested in July 2008. He was a member of the Larung Gar Buddhist Temple, an important centre for Buddhist studies targeted by Chinese authorities
Dharamsala, India -- A year after Ngagchung's arrest, the fate of the Tibetan monk remains unknown. The Tibetan Centre for Human Rights and Democracy (TCHRD) reports that his family has not received any confirmation of his detention.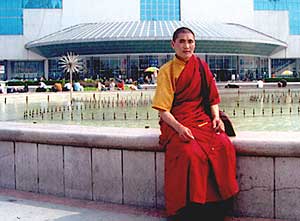 << Tibetan monk Ngagchung from the Larung Gar Buddhist Institute (Filepic)

Ngagchung was arrested on 8 July 2008 along with two other monks, Taphun e Gadruk, from the Larung Gar Buddhist Institute in Sertha on suspicions that they leaked information to 'separatist forces' based abroad with regards to Tibet's situation at the height of last year's anti-Chinese protests. The other two monks were interrogated and released, but Ngachung disappeared.

The last information about him suggests that he was held in a prison in Chengdu (Sichuan), but nothing is known about his physical and mental conditions. Every request made by the family to visit him were turned down.

The monk has always been active in and respected by the Buddhist community. He is also the nephew of Khenpo Jigme Phuntsok, a highly-respected Tibetan Buddhist scholar who founded the Larung Gar Buddhist Institute in Sertha County (Chinese, Seda), Kardze.

According to the TCHRD, many Tibetans who are arrested simply disappear, their families unable to see or know anything about them.

Chinese authorities have also targeted the Larung Gar Buddhist Institute in Sertha County and sent teams of officials for the "patriotic re-education" of the monks.

In April 2001 the authorities imposed a quota on the number of students who could attend the institution; some 7,000 students were forced to leave.

In June 2001 thousands of policemen took over the monastery and tore down many constructions.

Ngagchung has studied Buddhism at the Serthar Larung Ngarig monastery for more than 20 years.

Chinese authorities had started cracking down on Serthar Larung Ngarig monastery in the late 1990s. On 18 April 2001, the Chinese authorities issued a notice reiterating their command that Serthar must have a ceiling of 1,400 residents, which resulted in the eviction of over 7,000 students.

Khenpo Jigme Phuntsok, an influential Buddhist master, passed away at a hospital in Chengdu on January 7, 2004, at the age of 70.