Home Issues


Tawang: A town with a tale to tell
By Saransh Sehgal, Asia Times, Nov 21, 2009
NEW DELHI, India -- Tawang, a tiny outpost sandwiched between Myanmar, Bhutan and Tibet in the lush forested state of Arunachal Pradesh in the Himalayan foothills, is governed by India but claimed by China.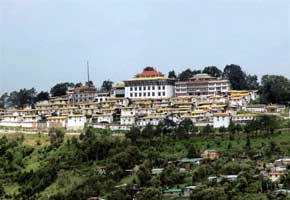 Tawang is very close to the Chinese border, just a few kilometers from Bumla, the nearest border post. It is at Bumla that army officers from India and China meet for routine border post meetings every three months. Chinese army officers and civilians on the other side also cross the border on August 15 every year to attend celebrations of India's Independence Day. The Indian side, too, reciprocates by sending a delegation each year to the other side on October 1, China's National Day.

The region has frequently changed hands amid chaos, such as in the late 1940s during the birth of communist China and after the 1947 independence of India from British India. The last upheaval was in 1962 during the Sino-Indian War, when Chinese troops briefly overran the Himalayan town and its surrounding areas, which are known today as part of the Indian state of Arunachal Pradesh.

Tawang has once again drawn international attention to the territorial dispute between India and China - the world's two most populous countries - which are now both nuclear-armed and competing for world power status. The recent visit of Tenzin Gyatso, the 14th Dalai Lama, to the region was played up by media as a three-sided contest between New Delhi, Beijing and the Tibetan government in exile, which is based in India.

China slammed the Indian government for allowing the Dalai Lama to visit Arunachal, an area with a Tibetan culture that Beijing claims as "Southern Tibet". While New Delhi did not seemingly yield to Beijing's protests, India did expel all foreign journalists from the region.

China's anger stems in part from a territorial dispute over Arunachal Pradesh that can be traced to about a century ago. China claims sovereignty over the region and refuses to recognize the so-called McMahon Line, a border drawn by India's British colonial rulers in 1914 that gave Arunachal to India. China also occupies a part of Kashmir claimed by India. Despite 13 recent rounds of talks between the two countries on the border dispute, no agreement has been reached.

The indigenous inhabitants of the area are the Monpas, who had always kept a distance from the Tibetans of the plateau, despite sharing religious and cultural values. Inhabitants in their 60s in the area of Tawang have the distinct experience of living under four national flags - British, Tibetan, Chinese and Indian.

Chinese scholars argue that the Monpas' interests would be better safeguarded with China, and that only the Monpas can decide their future. So Monpas perceptions and opinion of India remain important for the future of Tawang.

In the past, Monpas tribes were unhappy subjects of often oppressive Tibetan rulers. Today, the fortunes are reversed - Tibetan rulers are now viewed as persecuted and many have had to flee the country - while Monpas are free citizens of India. It seems few want to live under Chinese or Tibetan rule, though they all revere the Dalai Lama as their religious leader.

Tawang has a special status in Tibetan Buddhism. Its monastery is one of the largest and oldest of the dominant Tibetan Gelupga sect, which is near the home of Tsangyang Gyatso, the sixth Dalai Lama born in 1683 - a leader particularly beloved by the Tibetans and the native Monpas.

The present Dalai Lama, they believe, is a reincarnation of Tsangyang Gyatso, who was a Monpas and the only Indian Dalai Lama. "It is very important to remember that India, too, once produced a Dalai Lama," says Wangchu, a local Monpas, claiming that the sixth Dalai Lama's blessings keep Tawang safe.

"Because of the recent border tensions and the Dalai Lama's visit, we had some fear of the Chinese. But there is nothing happening there, Tawang is of India and not of China. And this is what the Dalai Lama cleared during his first day here - he was almost surprised by China's claim over Tawang" said Tsering Lamho, a Monpas woman who serves in the Arunachal Pradesh state government.

During his first day at Tawang, the Dalai Lama said, "The then [1960s] Chinese government declared a unilateral ceasefire and withdrew. Now the Chinese have got different views. This is something which I really don't know. I am a little bit surprised."

Tsering Tsomu, a 10-year-old Monpas girl said, "We are delighted that His Holiness has come here. My family tells that I am lucky being blessed by the Dalai Lama and I hope that his visit will bring about lasting peace to Tawang and the state as a whole."

"The Indian flag is all over the town because this is India. As well as the Tibetan flag because His Holiness the Dalai Lama, the highest Tibetan spiritual leader, is coming," said Guru Tulku Rinpoche, head of the Gaden Namgyal Lhatse, popularly known as Tawang Monastery.

"He stayed here for a few days when he fled from Tibet 50 years ago. He was here three more times, the last being in 2003. But this time is special, in view of China's unwarranted objections," said Phupten Tenzin, a local Monpas tribal who runs a souvenir shop.

Some Tibetans living in exile in Tawang say they still hope for the day when they can return to Tibet with the Dalai Lama.

"We have always longed to see our own homeland, our dear Tibet. It is just across those mountains. But since that is not possible at the moment, at least we can get the blessings of our great leader," said Gyelpo, whose parents escaped from Tibet to India in 1959.

As when he visits elsewhere in the world, the Dalai Lama's presence drew thousands of Buddhists from within and outside India during his tour. At Tawang and other local towns, Bomdi-la and Dirang, people turned up with their entire families to hear his discourses.

"We'll follow him wherever he goes. We'll go to Tibet only if he goes there," said Yeshe Jamyang, 77, who fled Lhasa along with the Dalai Lama in 1959 and later served in a special force of Tibetans raised by India that saw action in the 1971 India-Pakistan war that led to the creation of Bangladesh. The Dalai Lama spent 10 days at Bomdi-la during his escape from Tibet.

At Tawang and Dirang, a number of Nepalese and Bhutanese Buddhists were present at the Dalai Lama's congregations early this month. "The Dalai Lama is our supreme god," said Nima Tamang, a Nepalese Buddhist, as she rushed to listen to the Tibetan leader with her husband and children.

During his visit, the Dalai Lama asked the community to work for removing evils like superstition and bring "positive change" in society. "Let us be Buddhists of the 21st century, acting as harbingers of positive change," he said, also extolling the virtues of Buddhism and saying there was a need for introspection so that reforms could take place at the individual and community levels.

"Tawang's political significance is what makes it important, said Jambey Tashi, a local lawmaker. "Besides, many look at Tawang for direction when it comes to preserving Tibetan culture and heritage."

"There is nothing Chinese here, so there is no need to see us differently," said Tashi Rapten, a Monpas who came to see the Dalai Lama from Lumla, another village. "The Dalai Lama is our living God, we feel happy and lucky to see and get his blessings."

"His Holiness' visit to Tawang is all sacred and nothing political. Tawang can never be Chinese, though it used to be dominated by Tibet. Beijing's protest is baseless, all of a sudden China wants Tawang. I think Tawang is important for tourism and that may be the reason China wants it now," added Rapten. "For us, being born here means we are pure Indian."

Many residents in Tawang say incidents such as last year's crackdown in Tibet have only hardened their resolve to protect their culture and religion. "We hear about the atrocities in Tibet, the repression they [China] are carrying out," said R Neema, a local doctor. "But Tawang will try to sustain what China seeks to destroy in Tibet."

When asked whether he thought Tawang should be a part of greater Tibet that enjoys greater autonomy, Neema said that Tawang was now India's region, adding, "It is more Tibetan in culture and nature here in a free country than Tibet itself under Chinese domination."

However, some Monpas feel neglected by the Indian government in terms of development. They also believe that their tribal identity has been deliberately diluted. Seeing what China has achieved across the McMahon Line has made them feel they are on the wrong side of geography.

Lamho, who lives in Tawang town, said, "All we hear is developments on the other side of the border, we feel bad at heart, as if our [Indian] government is sleeping, New Delhi should do something. It would not only develop us but also keep the Chinese away".

However, Tenzing Tsetan says "India is our only hope". "In our demonstrations, we always shout, 'Tibet Ki Azaadi, Bharat Ki Saraksha', which means, 'Tibet's freedom is India's security'. It is in India's interest to support the Tibetan cause. They shouldn't be afraid."

Many Tibetans and native Monpas in Tawang fear the succession of the Dalai Lama as they believe China will use it as an opportunity to suppress the Tibetan cause. Tibetans allege that China has imprisoned the Panchen Lama, recognized by the Dalai Lama, and propped up its own Panchen Lama to divide Tibetans. "We can't rule out the possibility of such interference by Beijing in the selection of future Dalai Lamas," said a monk from Tawang.

It is not only the Tibetan spiritual leader's age - he turned 74 this year - but the possibility of China interfering in the selection of future Dalai Lamas and India's desperate efforts to maintain a balance between Beijing and Dharamsala that have begun to worry followers of Tibetan Buddhism.

The local Monpas and exiled Tibetans in Tawang fear that their god-king, the Dalai Lama, will never visit again due to his advancing age, busy schedule or shifts in New Delhi's policy.

Lama Tashi, a composer of religious hymns who was once nominated for the Grammy awards, says he is not sure whether the Dalai Lama will set foot here again. "He's an international figure and has a hectic schedule. One never knows if he will visit again as his trips have to be cleared by all levels," Tashi said.

-------------
Saransh Sehgal is a contributor based in Dharamsala, India, who can be reached at info@mcllo.com.