Home Issues


Imprisoned Tibetan Buddhist nun dies
AsiaNews, Dec 7, 2009
She was in prison for protesting in favour of the Dalai Lama
Dharamsala, India -- A Tibetan Buddhist nun, who was arrested months ago for a protest in Karze, died in unclear circumstances. The family was unable to recover the body of the deceased for autopsy.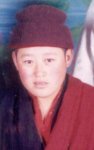 << Three days ago the family was advised of the seriousness of her health, but on arrival at the hospital, they learned of her death. No news of another nun, who was arrested together on 24 March in a small peaceful demonstration.
Yangkyi Dolma, 33, a Tibetan Buddhist nun from Karze (in Chinese: Ganzi), was arrested on 24 March and died yesterday in hospital in Chengdu (Sichuan). According to sources cited by the Tibetan Center for Human Rights and Democracy (TCHRD), Dolma's body has not yet been returned to the family and it is unclear whether an autopsy was made to establish the causes of death.
TCHRD sources say that on 3 December, the Karze Public Security warned the family about the poor health of the nun. The family, travelling overnight night arrived in Chengdu yesterday morning, where they were given the news of Yangkyi Dolma's death.
On 24 March, Yangkyi Dolma and Sonam Yangchen, from the monastery of Lamdrag (Karze, Tibetan Autonomous Prefecture in Sichuan Province) protested peacefully in the market square of Karze asking for "the return of the Dalai Lama to Tibet" and " human rights and religious freedom for Tibetans. " At least 50 policemen and security personnel surrounded the two nuns, and after having beaten them with electric batons and bars, dragged them to prison. The next day Yangkyi Dolma's family suffered searches and interrogations.
To date, although we now know of the death of Yangkyi Dolma, nothing is known about the fate of Sonam Yangchen.