Home Issues


Thai Monks target Western clergy
The Bangkok Post, Dec 30, 2009
Bangkok, Thailand -- The forest monks of Wat Nong Pah Pong want the Council of Elders and the Office of National Buddhism to impose stricter controls on Western monks to stop them from ordaining women.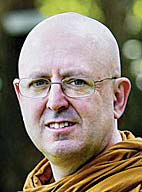 << Ajahn Brahm: Monk under fire

They also want the properties of Thai temples in the West to come under the ownership of the Thai Sangha to ensure complete control.

The monks are seeking the changes after the recent ordination of two women at Bodhinyana Temple, a branch of Wat Nong Pah Pong in Perth, Australia.

The Ecclesiastic Council is opposed to female ordination. The Wat Nong Pah Pong clergy have excommunicated the dharma teacher Phra Brahmavamso, popularly known as Ajahn Brahm, for sponsoring the ordination.

His temple has also been stripped of its status as a Nong Pah Pong branch monastery.

They council says it "wants the temple back". It claims Bodhinyana Temple was built primarily with money donated by the Thai disciples of the late Luang Por Chah.

They said they did not know how to proceed with their grievances under the Australian legal system, and have asked the Office of National Buddhism for help.

Temple ownership is one of the main obstacles to exercising control over Western monks because the temples are owned by private associations and not the Thai Sangha itself, said Phra Kru Opaswuthikorn at a news conference on Monday.

This should be changed to ensure the Ecclesiastic Council has control over Thai temples, both in Thailand and overseas, he said.

Bitterness and animosity among the Wat Pah Pong monks against Ajahn Brahm is running high and they have accused him of mismanaging temples in Australia. They complain he has changed by-laws and appointed his supporters to run temples.

They are also unhappy about alleged negative comments Ajahn Brahm has made about Thai clergy and Thai Buddhism in his talks overseas.

If action is not taken, the council fears that more women could be ordained in the West.

"Sooner or later, we'll see female monks everywhere," said Phra Kru Opaswuthikorn. He added that the introduction of the Siladhara order, or 10-precept nuns, which was set up by the most senior Western monk, Ajahn Sumedho, as an alternative to female monks in Thailand was also unthinkable.

It would be difficult for the Thai public and the clergy to accept the Siladhara order, he said, because the presence of women creates unnecessary problems for the monks' vow of chastity.