Home Issues


Dalai Lama reaches out to Chinese followers on Twitter
ANI, May 22, 2010
Boston, MA (USA) -- Tibetan spiritual leader, the Dalai Lama has reached out to his followers in China through Twitter. He held a 90 minute conversation on the website, using Chinese writer and Tibetan Buddhist convert Wang Lixiong's Twitter feed.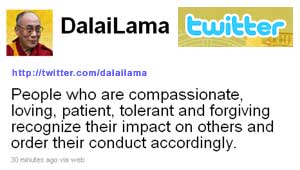 The Buddist leader fielded questions ranging from the Tibet issue to that of his succession, in all Dalai Lama answered almost 300 questions.
It is not known how many people could actually access the dalogue, since Twitter is banned in China, but unofficial estimates put the number of registered Twitter users in China at 150,000.
Significantly, he expressed concern over the deluge of Han Chinese people who have virtually taken over the Tibetan Autonomous Region because of their exponential population growth far outnumbering the original inhabitants.
According to the Christian Science Monitor, the Dalai Lama said that the gap between Tibetans and China's majority Han Chinese "is getting deeper and deeper". Adding that in some areas the Han community has grown so dramatically that "Tibetan culture faces a great crisis."
Criticising the Chinese regime, Dalai Lama tweeted: "The government made these tensions, not the people," through a Chinese interpreter, according to the Associated Press.