Home Issues


Dalai Lama sounds alarm over global warming amid floods
AFP, Aug 15, 2010
DHARAMSHALA, India -- The Dalai Lama said global warming could be to blame for devastating flooding and mudslides across Asia as he offered prayers on Saturday for victims of the disasters.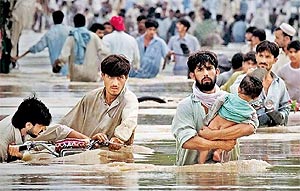 << An estimated 14 to 20 miilion people have been effected by floods in Pakistan, with up to 1600 people dead according to UN estimates

The Buddhist spiritual leader said he was "deeply saddened" by the loss of lives and destruction of property in Pakistan, India and China, and added he was concerned that the disasters may have been caused by global warming.

He also expressed concern about Russia, which is battling its worst-ever forest fires.

"According to experts these very unusual floods and the devastating fires in Russia are symptoms of a deeper malaise occurring due to unprecedented global warming and other environmental causes," the Dalai Lama said in a statement issued from Dharamshala, his home-in-exile in northern India.

"A concerted international effort is needed to think about measures to preserve our common and delicate ecology," said the Dalai Lama, who fled to India in 1959 after a failed uprising against Chinese rule in Tibet.

Pakistan says 14 to 20 million people face direct or indirect harm as a result of unprecedented floods that have triggered the country's worst humanitarian disaster.

The United Nations believes 1,600 people have died, while Islamabad has confirmed over 1,300 deaths in the Pakistan floods.

Meanwhile, China is battling huge floods and a massive mudslide that has claimed over 1,150 lives.

In India sudden rain storms more than a week ago triggered flash floods that killed 189 people in the adventure tourism region of Ladakh in the Himalayas while some 400 people are still missing.