Home Issues


Chinese Communist party demands reforms in Tibetan monasteries
PTI, Aug 16, 2010
Beijing, China -- A fresh purge appeared to be in the offing in Tibet with a top leader of the Communist Party of China calling for reforms in Buddhist monasteries by appointing monks and nuns who are "politically reliable".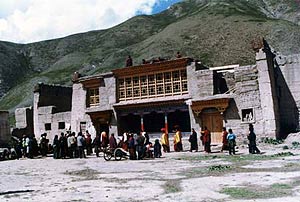 In a move that could be aimed at weeding out pro-Dalai Lama elements in the clergy, Du Qinglin, head of the United Front Work Department of the Party's Central Committee, also demanded that "greater, concerted and solid efforts" must be made to implement democratic management in the monasteries.

"Concerted and solid efforts must be made to implement democratic management in Tibetan Buddhist monasteries," Du was quoted as saying by the state-run Xinhua news agency, in what appeared to be a fresh effort to strengthen government's hold on Tibet's influential religious centres in the politically sensitive Himalayan province.

"Competent Tibetan Buddhist monks and nuns who are politically reliable, extraordinarily learned and widely respected should be selected to monastery management committees through thorough democratic consultation," he said.

As per the prevailing rules, the posts of all the top monks known as Lamas have to be made with the approval of the Chinese government.

Du, also vice-chairman of the National Committee of the Chinese People's Political Consultative Conference, made the remarks of sweeping changes in the powerful clergy in Tibet during a two-day conference on democratic management of Tibetan Buddhist monasteries at Xigaze in Tibet Autonomous Region, which began yesterday.

His remarks were timed even as another powerful Communist Party leader He Guoqiang, a member of the Standing Committee of the Politburo undertook a tour of the politically sensitive province visiting the Potala Palace, which was the seat of the Dalai Lamas.

Tibet's provincial capital Lhasa witnessed large scale riots in 2008 before the Beijing Olympics in which large numbers of Tibetan mainly monks were killed.

The riots were directed against non-Tibetans in which several monks reported to have taken part. Chinese government blamed the Dalai Lama for instigating the riots, which he has denied.

Du said that in implementing monastery democratic management, the lawful rights of monasteries, orderly religious activities of monks and nuns, and normal religious practice of believers must be ensured.

Monasteries play a very vital role in Tibet where Buddhism and Monks or heads of various sects of the religion wields spiritual and political influence over the masses.

Many of the top monks of Tibet including the Dalai Lama, the spiritual head, who fled to India in 1959 were selected through the complex process when they were children and then graduated through these institutions.

The 11th Panchen Lama, Bainqen Erdini Qoigyijabu, regarded as the second spiritual head of Tibetan Buddhism sent a congratulatory message to the conference which was attended by some 150 people from Tibetan Buddhist circles and relative governmental organisations.