Home Issues


Why we need Bhikkhunis as dhamma teachers
by Sanitsuda Ekachai, The Bangkok Post, Sept 8, 2010
Bangkok, Thailand -- Why should we meditate? There are tons of books out there explaining how meditation can help us cultivate equanimity so we can face external storms without losing our inner balance.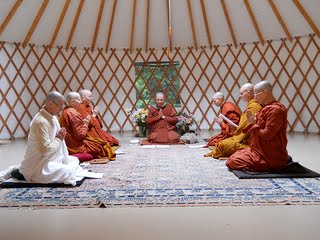 << Bhikkunies from the Aranya Bodhi Hermitage in Vassa

In Buddhism, meditation - more specifically insight meditation - is the only way to realise Nature's Law of Impermanence, so we can learn to let go of our sense of self which spurs all sorts of selfish acts and makes us blind to others' suffering.

I am indebted and ever grateful to many inspiring dharma books and sermons by monk teachers' with clarity of thought in the realm of rationality and fatherly compassion.

Yet, I felt something was missing, although I never could quite put my finger on it.

I never seriously thought about it either since the monks' takes on dhamma are enough to convince me that we can never call ourselves Buddhists if we do not meditate on the transience of life.

When I listened to Dhammananda Bhikkhuni's talk on the journey of her spiritual life recently, I came to realise what I felt was missing.

I have also become more convinced of the need for bhikkhuni as dhamma teachers.

Ven Dhammananda is Thailand's first Theravada female monk. Ordained in Sri Lanka in 2001, she was nearly crushed by the Thai clergy which fiercely opposes female ordination.

Many Thai women are now following her path. It is estimated that there are now about 50 Sri Lankan-ordained bhikkhuni and samaneri in Thailand right now. And the number is growing.

Chosen to deliver this year's Komol Kheemthong Speech in honour of social pioneers, Ven Dhammananda did not talk about gender equality or women's rights - the main arguments for female ordination.

Instead, she touched powerfully on one of the taboos in Thai culture - problematic child-parent relationships.

"This is a source of suffering for many people. And one cannot grow spiritually as well as one could if these problematic knots remain undone," she explained.

With great courage and compassion, she shared with the audience her own deep emotional wounds, the roots of her insecurity, and how feminism and spiritual practices have helped her reconcile with herself - and her mother.

Her mother was the late Bhikkhuni Voramai Kabilsingh, Thailand's first female monk in the Mahayana tradition.

It was not easy growing up with a very strong mother whose strengths made her feel weak and inadequate.

Back when she was a scholar of Buddhism, she said she never told her colleagues that her mother was a bhikkhuni.

When her mother became old and ailing, she was also torn - even angry - when people asked her when she would ordain to "inherit" her mother's temple, despite her own spiritual inclination.

After many women's conferences, she came to realise that such troubled mother-daughter relations were not exclusive. The healing process was painful. But through an honest acceptance of the root problem and spiritual practices, "eventually, I could love my mother. I was 40, then."

Like trees, she said, we need strong roots to grow securely. Likewise, we need to examine our roots, confront our emotional trauma and heal them back to health for our own spiritual growth.

I have yet to find monks who dare bare their souls, their pains and use themselves as a tool to teach dhamma the way Ven Dhammananda did.

Not that men do not have the same problems with their parents. They just do not talk about it. As figures of authority, monks also do not think it proper to share their personal stories.

A women's psyche is different. We talk. We share. We cry and we heal together. A women's spiritual journey is not all about rationality and total submission to rigid discipline.

It is also about caring and accepting ours and others' emotions as natural, as subjects to meditate upon, not weaknesses to be despised and dismissed.

How many monks understand this? That is why we need bhikkhuni as dhamma teachers for one half of humanity.