Home Issues


Released Buddhist Nun in Serious Health-Condition
by YC. Dhardhowa, The Tibet Post International, 27 November 2010 08:59
Dharamshala, India -- A Tibetan nun is seriously ill after being released from Chinese prison on November 19 , The Tibet Post has learnt. Taga alias Tashi Yangtso was arrested on May 20, 2008, along with two other nuns, Achoe and Sochoe, after the three staged a protest against the Chinese rule over Tibet in their locality of Dhargye monastery in Karze county, eastern Tibet.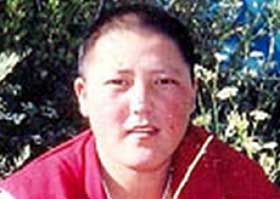 According to a source, the three Buddhist nuns were from Tehor Nyagye Nunnery, Karze county, eastern Tibet. Achoe hails from Ridha Village, So Choekyi from Lamna Village and Taga a.k.a Tashi Yangtso from Norkyab Village.The three were detained at a prison near Sichuan's provincial capital Chengdu. Sochoe and Achoe were later released as their health deteriorated and the authorities feared the two might die in the prison.

Tashi Yangtso continued to be jailed at the prison until November 19 this year. Taga's right hand had 2 fractures and her right ear is hearing impaired due to beatings in prison. "Taga's condition is said to be very serious as she is suffering from Tuberculosis and respiratory complications which she developed during her stay in the prison," the source said.

Yangtso is currently receiving treatment at a hospital in Chengdu, source said. The Chinese security forces had also arrested 12 nuns from Drakar Nunnery, 55 nuns from Pang-ri Nunnery and several other nuns from Ganden Choeling Nunnery under Kardze County around the same period in May 2008. Due to their severe beating and torture at the hand of the Chinese authorities, Many of the nuns' health have deteriorated rapidly, both physically and mentally. Before her prison sentence Taga was a very active and being like a outspoken member of the nunnery community, however, it is reported that since her release she avoids talking or meeting with anyone, source said.

The brutal crackdown Tibetans in all parts of Tibet by the Chinese government that ensued left an estimated 227 Tibetans dead, over 6810 arrested and 510 sentenced.