Home Issues


Nirvana yes, clean water no
by Shobhan Saxena, TNN, Dec 12, 2010
Bodh Gaya, India -- The main hall of the Gaya train station looks like a morgue. It's a wintry morning and bodies lie everywhere in white shrouds, black blankets or red bedsheets.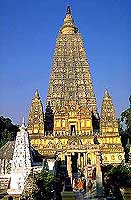 Foreign tourists heading for the Tripitaka festival attended by Buddhist monks from 54 countries, emerge from trains with trepidation. They negotiate their way through the rows of bodies. These are not dead people, merely the passengers, beggars, vagrants and rickshawallas whose only shelter in Gaya is the train station. The tourists pick their way through puddles of dog urine and cow dung, get into taxis and head for Bodhgaya, 20 minutes away.

It's where the Buddha got enlightenment 2600 years ago. In the early morning, it looks serene. The roads are lined with trees. Monks walk single-file down the road, muttering mantras. A drum sounds from one of the town's many monasteries and temples. Birds sing in the trees. The butter lamps in the temples glow softly. At sun-up, Bodhgaya stands fully revealed.

The roads are patchy; sidewalks broken; muddy lanes behind temples and monasteries are ankle-deep in a garbage cocktail composed of polythene bags, waste matter and earth. A small clearing between two brand new hotels, right in front of the Bhutanese temple, is home to tumble-down huts with potbellied children rolling in the dirt alongside filthy piglets. Nearby is a pond, green with slime and choked with plastic water bottles and polythene bags. "How can a society accept this level of poverty? Why is nobody doing anything about it," asks Japanese photographer Mizuno who says he's too numb to take photos. He is one of many visitors who are here to take part in the 'Karmapa
900' ceremony, a year-long event that commemorates the birth of the first Karmapa Lama.

But Bodhgaya is not all about misery. It has some swanky new hotels to mark its metamorphosis from the 1960s when it was no more than a village with a few huts and a famous tree. It has an international airport, which gets many chartered flights every day. It has some of the world's finest Buddhist temples — Thai, Tibetan, Korean, Japanese and Bhutanese. It is visited by thousands of foreign tourists every year. Roadside cafes here have an international menu with vegetable au gratin, chicken ala kiev and Italian coffee available.

Yet, in almost every street and at every temple gate crowd beggars and lepers, attended by packs of dogs and rooting pigs. Every temple has its own open garbage dump. "I wonder if Buddha chose this place for enlightenment because of its misery," says Peter, a Dutch tour operator.

In 528 BC, when Gautama Siddharth arrived here, he sat under a pipal tree for three weeks, opened his eyes and became the Buddha.

Today, a temple that overshadows the third living descendant of the pipal stands at the site. The Mahabodhi temple complex is a sea of tranquility and cleanliness in the chaos and filth of Bodhgaya.

Like many holy towns across India, Bodhgaya is low on basic necessities with long power cuts and every hotel warning against brushing your teeth with tap water. Bottled water is a thriving industry, empty water bottles choke Bodhgaya's streets and drains. One can find Nirvana here, but safe drinking water and clean air is scarce.

On Wednesday, as part of the 'Karmapa 900' celebration, the 17th Karmapa Lama gifted a safe drinking water facility to the people of Bodhgaya. Located near the main gate of the Mahabodhi temple, the facility will provide 500 litres of high-quality drinking water per hour and will be managed by the Bodhgaya Temple Management Committee in the future.

The Karmapa conceived the project last year when he noticed abnormal levels of plastic waste in the town because of the dependence on bottled water. The Living Buddha might have come to the rescue of local people, but officials say there is no problem to be fixed. "We have sweepers who clean the roads, collect garbage and dump it on low land outside the town," says Avinash Kumar, chief executive of the nagar panchayat. The panchayat has an annual budget of Rs 1 crore, half of which comes from Patna. "We have taken a number of steps to make sure that the town is clean," claims Kumar.

Perhaps the Buddha should have chosen somewhere else to seek enlightenment.