Home Issues


Tibetan Religion, Culture, Environment in Danger: 17th Karmapa
by YC. Dhardhowa, The Tibet Post International, 9 December 2010
Dharamshala, India -- His Eminences 17th Gyalwa Karmapa Ugen Trinley Dorje Wednesday (08 December) said that the future of Tibetan Buddhist culture, religion and environment in Tibet was in peril, according to a report published by OutLookIndia.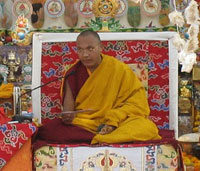 "The future of the Tibetan Buddhist religion and culture in Tibet is in danger", he told reporters at a press conference at Teraga monastery in Bodh Gaya. The followers of the religion were concerned with this grave threat, the 17th Karmapa said.

Gyalwa Karmapa, however, refrained from taking the name of China or holding it responsible for the "threat". The 17th Karmapa, who is on a visit to Bodh Gaya for a religious discourse, did not reply to a volley of questions on issues related to Tibet and China.

He recounted the strong religious and cultural relations between the people of Tibet and India and said Buddhist religion and its various sects in Tibet had emanated from India.

The Kagyu sect of the Tibetan Buddhist tradition which he follows, was found by Buddhist monk Marpa Chokyi Lodoe in 11th century. The sect had maintained its distinct Buddhist religious tradition since, he said.

Earlier in the day, he highlighted the lives and teachings of all Karmapas preceding him at a function to mark the 900th birth centenary of first Karmapa Dusum Khoyenpa.

The 25 year-old Karmapa said that the 900th birth anniversary of the first Karmapa will be celebrated throughout the world over the next one year before concluding in New Delhi on December 8 next year.

Meanwhile, over 10,000 Buddhists from across the world, including the US, South Korea, Japan, Bhutan and Thailand congregated at Bodh Gaya to attend the two-day prayer ceremony and three-day sermon being performed by the 17th Karmapa in a pandal adjacent to Terega monastery from December 08.