Meditate to fight crime
BY HORACE HINES, Jamaica Observer, December 31, 2017
Ugandan Buddhist monk insists that Jamaica's problems can be solved by teaching the science to reduce conflict

MONTEGO BAY, St James (Jamaica) -- Buddhist monk, Bhante Buddharakkhita is advocating for the employment of "mindfulness meditation" to curb the sweeping violence in the nation which has accounted for 1,600 murders since the start of the year.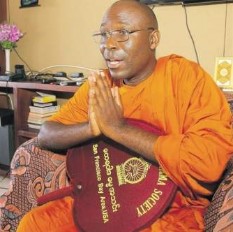 << Buddhist monk, Bhante Buddharakkhita ... when you meditate it can change other people (Photo: Philp Lemonte)
"Now when you meditate it can change other people, so mindfulness meditation will reduce conflict and crime rate in Jamaica," Buddharakkhita told the Jamaica Observer in an interview last week.
"When one person meditates and if the population of Jamaica is 2.5 million, that's one person less confused. If another person keeps on meditating that's two people less, three people, five people. That will take a long time. Let us take a look at this from a practical point of view. It might take 50 years, but 50 years that's already 50 people who are not going to get into problems, so that's the first thing."
He expressed that if meditation is taught, especially in the inner-city communities of Jamaica, then the community members will learn how to conquer their internal enemies and make their "mind a good friend", then it will become much easier "to go outside in the world and transform their friends, their relatives, strangers and all that.
"Without that, you can spend a lot of money on police, on army with guns to prevent crime, (but) it's not going to be very effective. What is effective is to start from inside and then we work outside," he said.
The Ugandan native, who works in the United States of America, claimes that application of the technique has reaped success in Washington, DC, where the crime rate was brought down from 50 to 25 per cent. He is adamant that the result can be replicated in Jamaica.
"They brought 100 mediators to Washington DC and the crime rate reduced 50 per cent to 25 per cent ... this is a documentary movie. So I just feel that the Jamaicans in general don't know much about mindfulness meditation," he said.
He further explained that perpetrators of violence in the aftermath of a general election in Kenya became peaceful after they were introduced to yoga.
"In Kenya there was a big violence after the election and those inner-city children were burning houses, so there was an American lady who came and started teaching these children yoga. Instead of using physical energy to burn houses, they used physical energy to exercise, to do yoga. And because yoga involves improving your health, the children who were doing yoga, they became calm and peaceful," Buddharakkhita outlined.
"So yes, in the innercity if people are violent we need to create a programme for them and transform that energy from violence, to non-violence through doing physical movements which would involve mindfulness. It's not sitting here and closing your eyes and saying Jamaica is going to be peaceful. No, it involves mindfulness of movement."
He argued that it is important to be mindful that meditation inspires peace of mind which over time, radiates outwardly to others.
In the meantime, the Buddhist monk, who was in Jamaica recently as a guest of the Burmese community, expressed that he was pleasantly surprised to come to the realisation that the Jamaica he has come to know is not as violent as he has read about.
"Jamaica is a beautiful country; I have been here for 10 days. So beautiful. But, before I came here I had to Google what's Jamaica and what I was seeing ... wow! When I came here I was so surprised. What I read before I came here is not what I see," he stated with a smile.
Buddharakkhita, whose given name is Steven Kaboggoza, is appealing to Jamaicans to dispel the misconception that one cannot be a Buddhist and a Christian simultaneously.
"Being African and born in Africa and seeing African tradition and being born as a Christian, a Roman Catholic, I want to appeal to my fellow brothers and sisters in Jamaica that being a Christian cannot hinder you from practising meditation. So I appeal to the Jamaican people if they can find a way how they can seek how, to cultivate inner peace so that they can overcome suffering and stress and translate it to the society," he stated.
Meanwhile, according to another Burmese, Dr Maung Aung, the members of that country's community in Jamaica, made up of mainly medical doctors, is around 150 strong.
"Approximately 150 Burmese live in Jamaica so all of them are followers. There are some persons from different countries like Sri Lanka and India and from Far East, they are also Buddhist followers," informed Dr Aung.