China tries to make the Buddha smile
by Jayadeva Ranade, DNA India, December 27, 2011
New Delhi, India -- Foreign Affairs establishments of major nations usually include, among their practitioners of 'realpolitik', a select band of Sinologists, Kremlinologists and the like. China's foreign affairs establishment appears to have a group of professionals specialising in kasaya (garments worn by Buddhist monks and nuns) politics, or 'kasayapolitik'! These experts are mainly in the Chinese Communist Party (CCP)'s United Front Work Department (UFWD) and China's Ministry of Foreign Affairs.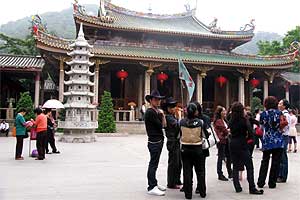 << Chinese government support for Buddhism is increasing
Since the CCP indicated approval of Buddhism slightly over five years ago, describing it as an "ancient Chinese religion", the Chinese authorities have sought to use it to achieve strategic and domestic objectives.
They convened World Buddhist Forums to appeal to the Buddhists in China as well as portray to neighbouring, predominantly Buddhist, countries that China's communist regime is tolerant of Buddhism. It is also projected China's 'soft power'.
Vice President Xi Jinping, then Party Secretary of Zhejiang province and now tipped to take over as China's President in 2012, helped organise the first World Buddhist Forum in 2006. A large number of foreign monks, nuns and scholars were invited to this Forum, where Beijing projected the China-appointed Panchen Lama, Gyancain Norbu.
The second World Buddhist Forum, held at Wuxi in 2009, had expanded objectives and held its concluding ceremony in Taiwan. It also sought to project to Buddhists in China's neighbourhood that China's communist regime 'approved' the religion. While Gyancain Norbu was again present, this time Beijing emphasised that the Dalai Lama was not invited as he was a 'disruptive element'. A third World Buddhist Forum is planned to be held in Hongkong in end April 2012.
Amid these initiatives, China accelerated preparations for the post-Dalai Lama phase. In 2007, it promulgated regulations that only Beijing can approve 'living Buddhas' and high lamas, including the Dalai Lama and Panchen Lama. It increased interaction with Tibetan Buddhist 'traditions', high-ranking lamas and others critical of the Dalai Lama. Beijing simultaneously began wooing the Karma Kagyu 'tradition' of Tibetan Buddhism, which exercises considerable influence in large areas of Tibet and the mountainous Indo-Himalayan border belt. Large numbers of Buddhists in Ladakh follow this 'tradition' as do the majority of those resident in Sikkim and Bhutan.
The Karma Kagyu is presently riven with dissension with four claimants to the position of XVIIth Gyalwa Karmapa. Ughyen Thinley Dorje, recognised as the XVIIth Gyalwa Karmapa by the Dalai Lama and Beijing, escaped from Tsurphu monastery near Lhasa into India in 2000. While suspicions about the manner of his escape linger, a Hong Kong source recently claimed that the day after his escape Beijing's State Council sought confirmation from an interlocutor as to whether Ughyen Thinley Dorje had escaped to India.
In this backdrop, the visit to Hongkong in February by Thaye Thinley Dorje, a major rival to the position of XVIIth Gyalwa Karmapa, and the Hongkong Buddhist Association's convention in October to felicitate the Karma Kagyu 'tradition', assume significance.
Neither could have been organised in Hong Kong without Beijing's approval. The UFWD is obviously wooing Thaye Thinley Dorje
Meanwhile, after a three-day conclave with senior Tibetan Buddhist leaders in Dharamsala mainly to discuss his reincarnation, the Dalai Lama criticised Chinese authorities for manipulating Tibetan religious beliefs and practices for political ends. He described the regulations promulgated in 2007, as "outrageous and disgraceful". Asserting that "they are waiting for my death", he cautioned Tibetans to "bear in mind that, apart from the reincarnation recognised through such legitimate methods, no recognition or acceptance should be given to a candidate chosen for political ends by anyone, including those in the People's Republic of China". He also exhibited his spiritual authority, pre-empted the Chinese, and accorded official recognition to 'Jonang' as the new, fifth 'tradition' of Tibetan Buddhism.
In the interregnum, tension has risen in Tibetan areas in China with twelve reported instances of self-immolation by ordained monks and nuns. Contact between Beijing and the Dalai Lama's envoys, however, remain suspended.
As China prepares for the Party Congress in October 2012, prospects for any change in the policy on Tibet appears remote. The entire incumbent top leadership last year approved the long term policies adopted for Tibet. Zhang Qingli, the Tibet Party Secretary till August 2011, credited with saying "the Dalai Lama is a wolf in monk's robes, a devil with a human face but the heart of a beast", is also likely to be promoted to the powerful Politburo.
His experience of managing the restive Xinjiang-Uyghur and Tibet Autonomous Regions will ensure him a say in policies relating to China's minorities.
----------
The author is a former Additional Secretary in the Cabinet Secretariat, Government of India