The Buddhist route
Express News Service, March 21, 2015
New Delhi, India -- An Indian government-supported NGO organised a rare dialogue on vinaya between high-ranking monks of the Theravada tradition in Sri Lanka and the Nalanda tradition in New Delhi this week - a dialogue at this level between the two traditions was last held in the 7th century AD.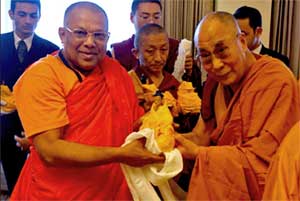 The Sri Lankan delegation consisted of three of its four Mahanayakas who, for the first time, met the Dalai Lama bilaterally.
This engagement comes weeks after Sri Lanka got a new president and days after Prime Minister Narendra Modi's visit to the country, where he had met the Mahanayakas and offered prayers at the sacred Mahabodhi tree.
By engaging the Mahanayakas, who wield political influence over the Buddhists in Sri Lanka, India also hopes to prevent the possible return of former president Mahinda Rajapaksa, as PM, after the parliamentary elections. In the recent presidential polls, Maithripala Sirisena and Rajapaksa had shared the Buddhist vote almost equally but the former won due to his massive lead among minority voters.
Besides Sri Lanka, Theravada Buddhism is the dominant religion in Myanmar, Thailand and Laos, while the Nalanda tradition has a Himalayan perspective, which includes Nepal and Bhutan.
By reaffirming India's historical leadership of the Buddhist world and projecting its Buddhist links in the region, Delhi is evidently trying to counter efforts by China to extend its sphere of influence.
As governor of Fujian province, President Xi Jinping had actively played the Buddhist card and Beijing continues to further its agenda through the world fellowship of Buddhists. Of course, Chinese claims of promoting Buddhism are ironic because Beijing represses the religion in the country, violently so in Tibet.
By engaging Buddhist influencers and opinion-makers globally, Delhi aims to exercise soft-power diplomacy to secure the unity of Tibetan Buddhism under the Dalai Lama's leadership, and arguably ensure for itself a key role in the post-Dalai Lama scenario.