Call to India to explore Buddhist diplomacy
by G Parthasarathy, The Ribune India, Jul 16 2015
India would do well to leverage its heritage for strategic interests
New Delhi, India -- Facing growing isolation and hostility from the US and its western allies, Myanmar's military rulers turned to China for economic and military assistance. With reports emerging of Chinese military bases and monitoring facilities across Myanmar in the Bay of Bengal and Andaman Sea, concern grew in India.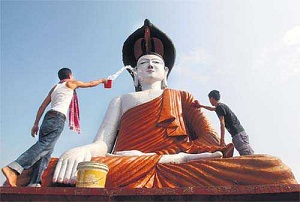 << Tourist facilities for Buddhist pilgrims in India are 'notoriously poor'.
I raised our concerns with a senior Myanmar minister. He replied: "You have nothing to worry about. I may go to China for weapons and support, but I have to go for salvation to Bodh Gaya." Not surprisingly, even when isolated, Myanmar provided no naval bases to China and widened its diplomatic options by joining ASEAN.
Can India leverage on her Buddhist heritage to promote her strategic interests across the eastern neighbourhood? Do we have the facilities to welcome visitors from our eastern neighbourhood to our Buddhist heritage sites? Can we become a tourist destination that caters not just to Americans and Europeans, but also our growingly cash-rich eastern neighbours?
Describing the tourist facilities for Buddhist pilgrims in India, particularly in Bodh Gaya, the US-based Bhutanese scholar, Dzungsar Jamyang Khyentse Rinpoche, remarked: "Whatever the historical antecedents, today's sad reality is that the government and people of Nepal, India and Bihar are notoriously poor hosts to hundreds of thousands of pilgrims who come here every year to pay homage and respect to the life and teachings of Gautama Buddha."
Referring to India "squandering" its Buddhist heritage, Kyhyentse observes: "India and Nepal gave the world one of its most precious resources — the Buddha. Yet neither country truly values this extraordinary legacy, let alone takes pride in it." Eminent Buddhists note that even the historic Nalanda University, which was home to Buddhist scholars from Tibet, China, Korea and Central Asia for centuries, before being razed to the ground by Bakhtiyar Khilji in 1193, has adopted a syllabus that virtually excludes teachings on Buddhist heritage. In marked contrast, China, which endeavoured to discard its religious heritage during the Mao era, opened up in the 1970s. There are now emerging signs of Buddhist revival, albeit under strict state control. China today boasts of the richest collection of Buddhist heritage sites. The UNESCO World Heritage sites in China include the Mogao Caves in Gansu Province, Longmo Grottoes in Henan, Dzu Rock carvings near Chonqing and the Leshan Giant Buddha, carved out of a hillside and looking down on a confluence of three rivers. There can be no comparison in the quality of facilities available to Buddhist pilgrims, tourists and scholars in China and the crude facilities that we have in India.
When members of the Thai Royalty or others visit Bodh Gaya and other Buddhist sites and pilgrimage places in India, they cannot help notice the poor quality of infrastructure and tourist facilities available in India, compared to those in their own homeland. The entire Thai landscape in tourist havens like Bangkok, Chiang Mai and Authiyya (Ayodhya) is lighted up with Buddhist shrines. Likewise, in Cambodia, the magnificent and 12th century Hindu Temple in Angkor Wat is respected, preserved and cherished, like Buddhist shrines elsewhere in the country. In Myanmar, the gold-plated pagodas in Yangon, Mandalay and elsewhere, and the 2,200 Buddhist temples and shrines constructed between the 9th and 12th century in Pagan, are preserved with pride. Tourists are warmly welcomed. These traditions are also observed meticulously in Japan, South Korea and Taiwan.
There are today an estimated 600 million Buddhists in the world. China alone has an estimated population between 220 and 240 million Buddhists. This number will inevitably rise, as its society becomes more open with the passage of time. This is, however, a matter that a one-party Communist dictatorship will tread on warily. It was, after all, a Polish Pope who set the stage for the disintegration of the Warsaw Pact and, ultimately, the unravelling of the Soviet Union. In these circumstances, India's 'Act East' policies will receive a boost if it acts imaginatively in building infrastructure which will serve as a catalyst for increasing Buddhist tourism and promoting academic and other exchanges on the life and message of the Buddha. With the Nalanda University focusing, according to its former Chancellor, on "secular" education, the University for Buddhist and Indic Studies in Sanchi needs to step in expeditiously as the country's premier institution for Buddhist Studies.
A serious effort will have to be mounted by New Delhi, in partnership with the state governments concerned, to develop India as the Asian epicentre for Buddhist tourism and studies. Connectivity has to be established and improved through road, rail and air, linking Buddhist sites, starting from Lumbini on the Indo-Nepal border and heritage sites like Bodh Gaya, Bharhut, Amaravati, Nagarkonda Sharavasti, Sankashaya, Nalanda and Rajgir; together with other commemorative monuments in Sanchi, Amravati, Ajanta, Ellora, Kanheri and Karli. Gujarat is also the home of several Buddhist heritage sites. There are thousands more pilgrims from immediate neighbours like Sri Lanka and Myanmar who will visit pilgrimage sites, provided relatively cheap ferry and road transport services are available.
At the same time, India would also be well advised to carry out a detailed study on facilitating high-end tourists, who may wish more comfortable surroundings for visits that combine pilgrimage and holidays. In countries like Thailand, pilgrimage is combined with golf by many high-income tourists from countries like Japan and South Korea.
Developing India as the epicentre for Buddhist pilgrimage and tourism will receive external funding and support, if the countries of East and Southeast Asia are associated as partners. There would be substantial interest if foreign investment in tourism infrastructure is combined with offers by us for governments of Buddhist countries, to construct temples and pagodas, portraying their distinct national architectural styles, in select Buddhist heritage sited in India. All this will require an imaginative and massive effort by the union and state governments, in partnership with the domestic tourism industry and its foreign counterparts. Not only are the foreign policy benefits of such measures self-evident, but also the tourism industry will immensely boost local employment across vast tracts of India.