Has Aung San Suu Kyi sold out the Dalai Lama?
By Sai Wansai, Mizzima, 17 September 2016
Beijing, China -- Has Aung San Suu Kyi sold out her fellow Nobel Peace Laureate the Dalai Lama? It's a stunning question. But it needs to be asked in light of the China-Myanmar Joint Press Release or Statement of 20 August 2016 following Suu Kyi's historical China visit.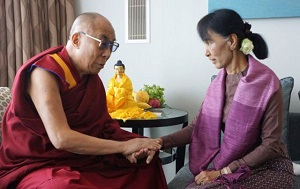 On the face of it, the statement can be viewed as standard diplomatic procedure, not much to comment on.
But a closer look at it revealed a controversial issue that has been endorsed by Myanmar State Counsellor Suu Kyi.
In one of the paragraphs in the joint China-Myanmar press release is the following statement: "Myanmar reiterated that it sticks to the One-China policy, understands and supports China's stance on the Taiwan issue, Tibet-related issues and Xinjiang-related issues."
The statement implies Myanmar sees eye-to-eye with China's stance on Tibet, Xinjiang and Taiwan without reservation.
While people might understand Suu Kyi's pragmatic political position to accommodate its big neighbour by bowing to the inclusion of this controversial phrase, from a moral and ethical standpoint, it has a negative impact, specifically in terms of sovereignty and human rights.
Suu Kyi is admired for her staunch support for democracy and human rights, not only for her own country but as principles that should apply to all people. This is the main reason she was awarded the Nobel Peace Prize in 1991.
But why is she deviating from her commitment? And has she let the Dalai Lama and the Tibetan people down?
Disappointment voiced
Quite a lot of people that this writer has known during my days as Shan representative to the Unrepresented Nations and Peoples Organization (UNPO) are openly disappointed by Suu Kyi's action regarding this important China-Myanmar statement, particularly those from Tibet and Xinjiang, also known as East Turkestan.
There is little wonder that they might feel betrayed, given Suu Kyi's iconic status as a supporter of people's right to self-determination.
Due to the readily available data, only Tibet issue will be discussed here, although Xinjiang is also a controversial issue and not less important than Tibet.\
Is Tibet a country?
The core of the problem is the status of Tibet.
The main thrust of the argument from China's perspective is that Tibet was absorbed about 800 years ago during the Yuan Dynasty, becoming an inseparable part of China. Beijing claims Tibet has not been a separate country since, and virtually no country has recognised Tibet as an independent state.
The position of the People's Republic of China (PRC), which has ruled mainland China since 1949, as well as the official position of the Republic of China (ROC), which ruled mainland China before 1949 and currently controls Taiwan, is that Tibet has been an indivisible part of China de jure since the Yuan dynasty of Mongol-ruled China in the 13th century, comparable to other states such as the Kingdom of Dali and the Tangut Empire that were also incorporated into China at the time.
Furthermore, according to the PRC, successive Chinese governments have recognized Tibet as having its own unique culture and language; however, they believe that this situation does not necessarily argue in favour of its independence, because China has over 56 unique ethnic groups and is one of many multi-national states in the world.
But from the view of exiled Tibetans, Tibet was not ruled by the Chinese government prior to the 1950 invasion. In 1912, the 13th Dalai Lama - Tibet's then political and spiritual leader - issued a proclamation reaffirming Tibet's independence and the country maintained its own national flag, currency, stamps, passports and army. It signed international treaties and maintained diplomatic relations with neighbouring countries.
Exiled Tibetans have claimed that from a legal point of view Tibet remains an independent state under illegal occupation, a fact that China wishes it could whitewash.
Oppression and human right violations
According to Tibet Post International (TPI), in its 20 April 2016 report titled, "Human Rights Violations in Tibet: Report 2013-2016," starting in 1949, Tibet was invaded by 35,000 Chinese troops who systematically raped, tortured and murdered an estimated 1.2 million Tibetans, one-fifth of the country's population. Since then over 6,000 monasteries have been destroyed, mostly during the period of China's Cultural Revolution 1966-75, and thousands of Tibetans have been imprisoned. According to different sources, it is estimated that up to 260,000 people died in prisons and labour camps between 1950 and 1984.
The oppression continues. The Chinese regime enforces its control over every aspect of life on the Tibetan plateau through the threat and use of arbitrary punishments, at times including severe violence. Freedom House, in their annual 'Freedom in the World' report release in 2016, has placed Tibet as the second worst place in the world for political rights and civil liberties.
Since he fled into exile in 1959, the Dalai Lama, as the spiritual leader of his people, has made repeated efforts to raise the issue of Tibet on the international stage. He became a roving ambassador for his people – both for the 150,000 Tibetan exiles and the estimated 6 million living in the Chinese-held territory of Tibet. And for over two decades the clarion call was for a "free" and independent Tibet.
The Middle Way Approach
However, despite the on-going human rights abuse in Tibet, the Dalai Lama changed his stance of confrontation, beginning in 1989, and began a more conciliatory approach known as "The Middle Way", a stance that his Tibetan exile government has taken up. This exile government is now run by a democratically-elected leader or Kalön Tripa (Chief Minister or sometimes translated as Prime Minister).
The current exile Tibetan Prime Minister Dr Lobsang Sangay has emphasized the importance of seeking a peaceful, non-violent resolution of the Tibet issue. He has supported the Dalai Lama's call for a so-called "Middle-Way" approach "that would provide for genuine autonomy for Tibet within the framework of Chinese constitution." Noting that China has established "one country, two systems" mechanisms in Hong Kong and Macau, he has argued that it makes no sense for China to continue to resist a similar solution for Tibet. He says treating Tibet like Hong Kong and Macau would be a "win-win" solution.
According to Dalai Lama, "Important Components of the Middle-Way Approach" are outlined as below:
Without seeking independence for Tibet, the Central Tibetan Administration strives for the creation of a political entity comprising the three traditional provinces of Tibet;
Such an entity should enjoy a status of genuine national regional autonomy;
This autonomy should be governed by the popularly-elected legislature and executive through a democratic process and should have an independent judicial system;
As soon as the above status is agreed upon by the Chinese government, Tibet would not seek separation from, and remain within, the People's Republic of China;
Until the time Tibet is transformed into a zone of peace and non-violence, the Chinese government can keep a limited number of armed forces in Tibet for its protection;
The Central Government of the People's Republic of China has the responsibility for the political aspects of Tibet's international relations and defence, whereas the Tibetan people should manage all other affairs pertaining to Tibet, such as religion and culture, education, economy, health, ecological and environmental protection;
The Chinese government should stop its policy of human rights violations in Tibet and the transfer of Chinese population into Tibetan areas;
To resolve the issue of Tibet, His Holiness the Dalai Lama shall take the main responsibility of sincerely pursuing negotiations and reconciliation with the Chinese government.
In a nutshell, the Dalai Lama's proposal could be summed up as follows:
"The Tibetan people do not accept the present status of Tibet under the People's Republic of China. At the same time, they do not seek independence for Tibet, which is a historical fact. Treading a middle path in between these two lies the policy and means to achieve a genuine autonomy for all Tibetans living in the three traditional provinces of Tibet within the framework of the People's Republic of China. This is called the Middle-Way Approach, a non-partisan and moderate position that safeguards the vital interests of all concerned parties-for Tibetans: the protection and preservation of their culture, religion and national identity; for the Chinese: the security and territorial integrity of the motherland; and for neighbours and other third parties: peaceful borders and international relations." (Source: His Holiness's Middle Way Approach For Resolving the Issue of Tibet)
It should be pointed out that many exiled Tibetans are at odds with the Dalai Lama and his conciliatory approach to China, and that even today when there is a demonstration in India or in the West, many hold banners and signs saying, "Free Tibet," and carry what they consider their national flag.
Needless to say, China has resolutely stuck to its position that Tibet is an integral part of China. Despite a series of talks and visits by exiled Tibetan officials, China refuses to negotiate, citing that the real motive of Dalai Lama has always been separatism and independence from China.
Suu Kyi, Michael Aris and the Dalai Lama connection
Myanmar State Counsellor Suu Kyi is no stranger to the "Tibet Question" and at least at face value would appear to have much in common with her fellow Nobel Peace Laureate, the Dalai Lama.
Suu Kyi met the Dalai Lama in 2012 for the first time, while she was visiting United Kingdom, where she was praised by him, and he also spoke up in support for her courage and steadfast democratic commitment and human rights advocacy.
The Dalai Lama later urged her repeatedly to support the oppressed Muslim population, including the Rohingya, for religious harmony to take place in Myanmar, though she has replied that this is a complicated issue, without elaborating.
Suu Kyi should understand the "Tibet Question" as her late husband, Michael Aris was a Tibetologist, who was well-versed in matters encompassing Bhutan and Tibet, and the couple spent time together in Bhutan. Their 1972 marriage in the UK was blessed by an exiled Tibetan lama, Chime Rinpoche.
Foreign policy blunder
Such being the case, the question has arisen as to why Myanmar State Counsellor Suu Kyi signed the China-Myanmar Joint Statement, especially given her previously voiced enthusiasm for Myanmar adhering to a non-aligned and neutral position.
Suu Kyi comes from a background where the Bandung Conference, convened in Indonesia in 1955, still resonates, at which representatives of one quarter of the then world population supported the Non-Aligned Movement, one that stressed respect for human rights, the right of sovereignty and territorial integrity, refraining from violence, and justice and equality.
Seen from this adherence to neutrality and rights, it is hard to agree with China on human rights, racial equality and respect for justice point of view, with no need to even invoke sovereignty and territorial integrity arguments, which are debatable in the Tibet context.
The question of why she signed revolve around whether it was a trade-off to get China to pressure some of the ethnic armed groups that it have influence to join the 21st Century Panglong Conference; or to show the Chinese that Myanmar is not in the "Western camp" and catering to the United States' China containment policy, among others.
What is clear is she has abandoned her moral and ethical posture as an icon of democracy and human rights, opting instead for the role of a pragmatic politician, bent on realpolitik approach.
Suu Kyi's rise to fame and prominence were due to her posture on democracy, justice and human rights, the very things she is denying the Tibetans through her signature of the statement.
To the upset observers, the question remains whether she could have avoided signing or committing to the statement regarding Tibet and Xinjiang.
But the damage has been already done, even if people are for now reluctant to blow it out of proportion, for fear that her good international standing could be tarnished.
No one would like this to happen. Besides, everyone that has good will for Myanmar to achieve peace and prosperity would not like to see Suu Kyi fail.
We could only hope and pray that such a foreign policy blunder will never happen again.