Shinzo Abe's "Buddhist" Legacy
Op-Ed, The BuddhistChannel, 14 July 2022
Kuala Lumpur, Malaysia -- On 8 July, 2022, ex-Prime Minister of Japan Shinzo Abe was assassinated. In the days following his death, obituaries and reports began reflecting his contributions towards Japanese politics, international relations and history. He was Japan's longest post World War 2 serving Prime Minister (2012-2020).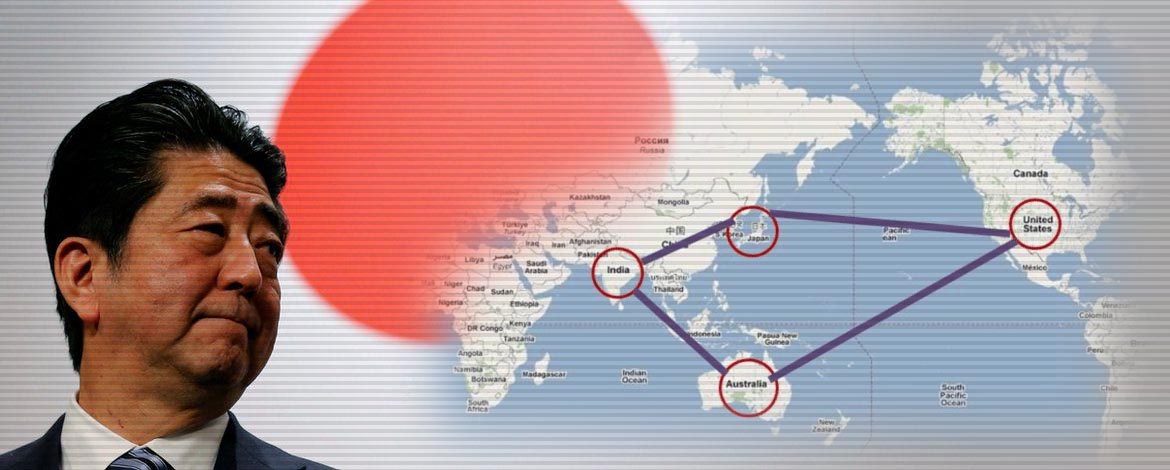 Due to the dramatic assassination, information which was publicly available but obscure began to surface. In part, much of the information was deliberately suppressed while he was in office, or that he carefully avoided participating in certain events lest he incurred the wrath of Japan's closest neighbors, namely China and South Korea.

The Shinzo Abe we know
The late ex-PM's political pedigree links him to his grandfather, Nobusuke Kishi. Kishi was himself Japan's Prime Minister from 1957-1960. He was known for his exploits in the Japanese puppet state of Manchukuo in Northeast China in the 1930s, and was nicknamed the "Monster of the Shōwa era". He later served in the wartime cabinet of Prime Minister Hideki Tōjō. For the record, Tōjō was convicted as a war crime criminal, found guilty by a war tribunal and executed in 1948
1
.
Due to his political pedigree, Abe became emotionally attached to "conservatism" when he became repulsed with people referring to his grandfather as a 'Class-A war criminal suspect'
2
Indeed, through his involvement in Japanese politics, political commentators have regarded him as a conservative, right-wing nationalist.
The conservative strain showed in many ways.
Abe held views on historical negationism with regards to the Japanese role in the second world war, including denying the role of government forcible recruitment of comfort women. This was a position which created tension particularly with neighboring South Korea
3
.
Since 1997, as the bureau chief of the "Institute of Junior Assembly Members Who Think About the Outlook of Japan and History Education"
4
, Abe led the Japanese Society for History Textbook Reform. The primary concern of these textbooks is the nationalist right's efforts to whitewash the actions of the Empire of Japan during World War 2.
In 2013, as Prime Minister, he was seen sitting inside the cockpit of a T-4 training jet plane, emblazoned with the number 731
5
. The picture showed him smiling and giving a thumbs up. The number 731 evokes the name of Imperial Japan's notorious biological and chemical warfare research unit based in Harbin, China, which experimented on humans, including prisoners of war from China, Russia and Korea, between 1932 and 1945.
Another controversy that rankled Chinese and Koreans was his multiple homages to the Yasukuni Shrine, which includes the enshrinement of Class A war criminals
6
. Critics see the visits as a symbol of a lack of remorse over Japan's wartime actions. He made six visits to the shrine after resigning from office
Abe's conservatism and global geo-politics
An insight into Shinzo Abe's right-wing conservatism is key to understanding Japan's geo-political role during his prime ministership. He was considered a hard-liner with respect to Japan's military policies, who advocated reforming the Japan Self-Defense Forces (JSDF) by revising Article 9 of the pacifist Japanese constitution that outlawed the country from declaring war or acquiring ballistic missiles and nuclear weapons. He enacted military reforms in 2015 that allowed Japan to controversially exercise collective security and JSDF deployments overseas.
During his first tenure as prime minister, Abe initiated the Quadrilateral Security Dialogue (QUAD) in 2007, which aimed at resisting China's rise as an economic and military superpower. Initially QUAD was called "Asia Strategic Diamond", an "arc of freedom and prosperity
7
" alliance with India, Australia and the United States of Hawaii. The "arc" purportedly aims to safeguard the maritime commons stretching from the Indian Ocean region to the western Pacific. This would prove to be the "Abe Doctrine".
This is where India comes in.
Abe believed that India, being a resident power in South Asia, with the Andaman and Nicobar Islands sitting at the western end of the Strait of Malacca, through which some 40% of world trade passes, deserved greater emphasis. He envisaged the "Confluence of the Two Seas", whereby the Indian and Japanese governments joined together to shoulder more responsibility as guardians of navigational freedom across the Pacific and Indian oceans. This strategy was to counter China's claim on much of the South China Sea, which has become one of the world's potentially big conflict zones.
The Japanese-Indian strategic tie-up was a direct response to China's "belt and road initiative (BRI)". Rather than competing with China's massive regional infrastructure spending which neither country could afford, they relied instead on their comparative advantage and what they have already invested in the region.
Japan already had ingrained manufacturing and trade networks in South East Asia long before China became a superpower. Many countries such as Thailand, Malaysia and Vietnam have become their virtual factory backyards. India meanwhile can count on their large diaspora as their sphere of influence. South East Asia hosts the largest Indian diaspora in the world, with Malaysia, Myanmar, Singapore and Thailand accounting for almost 6 million people of Indian descent
8
.
Rather than competing head on with China on infrastructure investments, Japan and India sought the route of military strategic alliance and soft culture diplomacy.
Global Hindu Buddhist Initiative
A tangible result of Shinzo Abe's "Asia Strategic Diamond" was the establishment of the SAMVAD Conference, a global Hindu Buddhist initiative for dialog to build the future of Asia through traditions of non-violence and democracy
9
. SAMVAD (Sanskrit word for dialog) was the vehicle used to engage with South East Asian states with predominantly Buddhist populations such as Thailand, Myanmar, Cambodia, Laos and Vietnam.
SAMVAD was mainly funded by Japan with India playing the role of the organizer. Its secretariat is based at the Vivekananda International Foundation (VIF), a New Delhi-based think tank set up with the collaborative efforts of India's leading security experts, diplomats and philanthropists. On the Buddhist side, the International Buddhist Confederation (IBC) was engaged as the strategic partner, which was used to reach out to notable Buddhist leaders from South and South East Asia.
The IBC was founded by Lama Lobzang, a monk from India. The idea came about during his visit to Sri Lanka in 2010
10
. Unlike the World Fellowship of Buddhists (WFB), which was formed through the meetings of national Buddhist organizations from their respective country, the IBC began as a congregation of Buddhist individuals from different countries meeting in India. It was formally registered in India in 2012. IBC later became the key organization which promoted Buddhism in India, specifically its holy sites and Buddhist circuits.
More importantly, as the IBC is registered in India, it could accommodate the presence of HH the Dalai Lama – domiciled in India - and other Tibetan teachers in exile. The WFB could never invite the Dalai Lama to its meetings due to opposition from China.
SAMVAD held three conferences thus far: Bodh Gaya in 2015, Yangon in 2017 and Ulaan Baatar in 2019. It made great public impressions in Myanmar and Mongolia, and basically justified the Japanese investment. The real test of course is… how it will fare in more developed and established Buddhist countries such as Thailand and Sri Lanka, where the WFB was more entrenched. Moreover, China began to make its presence felt in the WFB especially after it hosted a spectacular WFB meeting in Baoji City, Shaanxi province in 2014.
Due to strong high level political support, SAMVAD was able to cleave out a Buddhist caucus which rivaled the WFB. Moreover, this cleavage left out China's participation. This was Shinzo Abe's success in defining an Asian sphere spanning two oceans sans Chinese presence. We could even say that the Abe Doctrine was taking shape.
The Sri Lanka question
Just when momentum was building, the Covid pandemic then happened. The fourth SAMVAD which was supposed to be held in New Delhi in late 2020 was cancelled. When Abe stepped down from office in 2020, his successors Yoshihide Suga and later Fumio Kishida did not seem too enthused with SAMVAD although they maintained interest in the QUAD arrangement. Nevertheless, economic uncertainties brought upon supply chain disruptions due to the pandemic lockdowns and then the Ukraine war have unmasked an unexpected situation which could be exploited by the groundwork established by Abe.
And that situation is the collapse of Buddhist Sri Lanka, an important strategic marine trade outpost situated in the Indian Ocean. Bankrupt and cashless, economically mismanaged, desperate Sri Lanka is now beholden to a host of creditors, which includes India, Japan and China. With the Rajapaksas - fervent Chinese supporters - out of the picture, the next Sinhalese leaders could be open for negotiations with non-Chinese parties.
Could therefore a SAMVAD conference, held in Colombo be that door that opens up Sri Lanka to QUAD support? Could the "Abe Doctrine" be put into motion with Sri Lanka as a crucial test case?
No one knows for sure what Shinzo Abe would have done if he was still alive. Nonetheless, he has left behind a framework for his successors to follow through. Buddhist countries in South and South East Asia may feel uncomfortable seeing large, powerful neighbors flexing muscles in their backyards. They are now placed in an uncomfortable position to choose their allies, and their backyard has been indeed turned into a political and military conflict field.
Shinzo Abe's shadow looms large and his legacy may herald the rise of a new unstable era in South and South East Asia.
References
-----------------
1 https://www.britannica.com/biography/Kishi-Nobusuke
2 https://www.thehindu.com/news/international/world//article60354161.ece
3 https://www.csis.org/analysis/prime-minister-shinzo-abe%E2%80%99s-august-14-statement-70th-anniversary-end-second-world-war
4 https://books.google.com.my/books?id=0DMyk1p_bbcC&pg=PA81&lpg=PA81&dq=shinzo+abe+Institute+of+Junior+Assembly+Members+Who+Think+About+the+Outlook+of+Japan+and+History+Education&source=bl&ots=6wIw5np3Br&sig=ACfU3U3Pheo71zgCOVL0b-aZamThcU2V6g&hl=en&sa=X&ved=2ahUKEwjy4c7Ftvf4AhXY9zgGHSnZDxEQ6AF6BAgCEAM#v=onepage&q=shinzo%20abe%20Institute%20of%20Junior%20Assembly%20Members%20Who%20Think%20About%20the%20Outlook%20of%20Japan%20and%20History%20Education&f=false

5 https://koreajoongangdaily.joins.com/2013/05/14/politics/Abes-pose-resurrects-horrors-of-Unit-731/2971580.html

6 https://www.reuters.com/article/us-japan-yasukuni-idUSKBN26A02U

7 https://www.mofa.go.jp/policy/other/bluebook/2007/html/h1/h1_01.html

8 https://en.wikipedia.org/wiki/Non-resident_Indian_and_Overseas_Citizen_of_India

9 https://samvad-vifindia.org/

10 https://www.ibcworld.org/background.php