The Dalai Lama Traces Heschel?s Footsteps
by Daniel S. Brenner, The Jewish Week, Oct 7, 2005
New York, USA -- As Rabbi Levi Weiman-Kelman, the rabbi who leads the Kol Haneshama community in Jerusalem, spoke from the lectern, I watched Tenzin Gyatso, the 14th Dalai Lama, as he clasped his hands in meditation and cracked a quiet smile.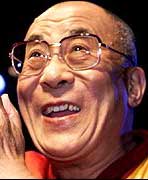 Sitting a few pews back in the interfaith service at the Upper West Side's Riverside Church, I could see how Swami Agnivesh ties his turban, how Geshe Lhundup Sopa counts his prayer beads, and how Ephraim Isaac plays with his tzitzit. I could even see that the young Muslim muezzin who called us all to prayer was wearing blue jeans under his robe.
"The first time I came to Riverside Church was to hear Rabbi Abraham Joshua Heschel," Rabbi Weiman-Kelman told the worshipers. "It was during the Vietnam War. It was a very trying time. He came because he believed that peace was possible."
Then the deep-voiced rabbi led the crowd of nearly 2,000 worshipers in singing the Shlomo Carlebach version of "Yehi Shalom B'cheylaych" based on Psalm 122. (Or I should say, led a few of the crowd in an earnest but failed attempt to sing the song. I love listening to non-Hebrew speakers pronouncing 'ech'.)
A few minutes later, the Dalai Lama rose from his seat, clasped his hands, turned his meditative focus to the large golden cross that adorns Riverside's stage and offered a slight bow. Immediately I thought to myself: Am I seeing the world's most prominent non-theist venerate the cross?
The Dalai Lama then walked to the lectern and his translator placed a glass of water before him. He clasped his hands and bowed to the glass of water.
The best part of the Dalai Lama's speech, which began in Tibetan and then spun into an occasionally undecipherable English, was when he spoke about war. He pointed to the sky.
"It is not from the sky," he said.
He pointed to the plants that decorated the lectern — "It is not from the plants."
He pointed to his own heart — "It is from us."
The Dalai Lama then spoke of the spiritual awakening that needs to happen — the consciousness that we are all connected, and that our religious traditions all have teachings within them that can facilitate this idea of our interconnectedness and the compassion for all beings that follows.
In that same spot back in 1967, Heschel had also spoken about a spiritual awakening. His words during the Vietnam era focused the direction away from the sky and into the heart.
"On what basis do we people of different religious commitments meet one another?" Heschel taught. "First and foremost we meet as human beings who have so much in common: a heart, a face, a voice, the presence of a soul, fears, hope, the ability to trust, a capacity for compassion and understanding, the kinship of being human. My first task in every encounter is to comprehend the personhood of the human being I face, to sense the kinship of being human, solidarity of being."
Sitting in that pew, watching an exiled Tibetan monk captivate the crowd, it occurred to me that Heschel's spiritual successor at Riverside is the Dalai Lama. In other words, among Christians who yearn for a world without Vietnams and Iraqs, the voice of the religious other is now embodied in a new refugee. The Dalai Lama is the new Heschel.
While one might be concerned that Buddhists rather than Jews now occupy a place of honor in such circles, I'd argue that we actually have a great deal to gain from the ways in which the historic Jewish-Christian alliance has branched out to include new religious traditions. As Rabbi Heschel wrote, "no religion is an island" — a teaching that is even more essential at a time when nations are reasserting their island identities.
As often happens in interreligious gatherings, the most transcendent, spiritually charged moments come unexpectedly. After the Dalai Lama spoke, a Thai Buddhist nun, a frail woman with a quiet voice and earthen-colored robes, told a story of a dream her mother had.
"Two armies were at war," she said, "and my mother imagined that she took these men in her arms and nursed them both. Before my mother died two years ago, she asked me to fulfill her dream. But I cannot do it alone."
We have come a long way from the night when Heschel and King spoke together in Riverside Church. But in many ways, the world's needs for moral grandeur and spiritual audacity are even greater.
Sitting at Riverside, clapping my hands as gospel singer Kim Harris sang "Shalom, Salaam, Peace," I watched the Dalai Lama gently sway to the music, and felt that perhaps the dreams of these visionaries are still capable of being fulfilled. n
Rabbi Daniel S. Brenner directs the Center for Multifaith Education at Auburn Theological Seminary in New York City.