Gandhi proclaimed himself a Buddhist
by PK Balachandran, The Hindustan, June 12, 2006
Colombo, Sri Lanka -- In the 1920s, Mahatma Gandhi proclaimed himself a Buddhist, saying that Buddhism was rooted in Hinduism and represented its essence. During his visit to Sri Lanka in 1927, Gandhi had no hesitation in declaring that he was a "Buddhist" because he saw Buddhism as cleansed Hinduism.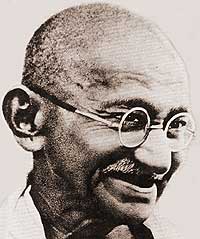 << Mahatma Gandhi
In his book Gandhiji in Ceylon (S Ganesan, Publisher, Triplicane, Madras 1928) his Secretary and chronicler Mahadev Desai quotes Gandhi as saying that the Buddha was a "Hindu of Hindus".
In a speech at the Young Men's Buddhist Association, Gandhi said: "He (Gautama) was saturated with the spirit of Hinduism, with the Vedic spirit."
"And so far as I am aware, he never rejected Hinduism or the message of the Vedas."
What the Buddha did was to introduce a "living reformation in the petrified faith that surrounded him," Gandhi said. In a speech delivered at the renowned Buddhist college, Vidyodaya, in Colombo, Gandhi said that it was his "deliberate opinion" that the essential parts of the teachings of the Buddha formed an "integral part of Hinduism."
"By his immense sacrifice, by his great renunciation and the immaculate purity of his life, he left behind an indelible impress upon Hinduism," Gandhi said of the Buddha.
"And Hinduism owes an eternal gratitude to that great teacher," he added.
"It is my fixed opinion that Buddhism or rather the teachings of the Buddha found its full fruition in India, and it could not be otherwise, for Gautama was himself a Hindu of Hindus."
"He was saturated with the best that was in Hinduism, and he gave life to some of the teachings that were buried in the Vedas and which were overgrown with weeds."
"His great Hindu spirit cut its way through the forest of words, meaningless words, which had overlaid the golden truth that was in the Vedas."
"He made some of the words in the Vedas yield a meaning to which the men of his generation were strangers."
"And he found in India, the most congenial soil," Gandhi asserted.
"Buddha never rejected Hinduism but broadened its base. He gave it a new life and a new interpretation," the Father of the Indian Nation said.
He then went to the extent of saying that what Hinduism did not take from Buddhism, was not important.
"I would venture to tell you that what Hinduism did not assimilate of what passes for Buddhism today, was not an essential part of Buddha's life and teachings."
The Buddha's teaching was, like his heart, "all expanding and all embracing", which made it survive his own body and sweep across the face of the earth.
"I claim that this achievement is a triumph of Hinduism," Gandhi declared.
Lankans urged to study Hinduism
At the Young Men's Buddhist Association, Gandhi told Sri Lankan Buddhists to study Hinduism too. "I venture to suggest to you that your study of Buddhism will be incomplete unless you study the original sources from which the Master derived his inspiration, that is, unless you study Sanskrit and Sanskrit scriptures," he said.
Buddhism deep-rooted in India
Gandhi said that India might lack the external trappings of Buddhism today, but the Buddhist ideology had deep roots in India, and was pervasive in its influence.
"What passes under the name of Buddhism now may have been driven out of India, but the life of the Buddha and his teachings are by no means driven out of India," he said.
And it was "impossible" for Hindu India to retrace its steps and reject the Buddhistic elements in it, he asserted.
Given his belief that Buddhism was but a cleansed form of Hinduism and the very essence of Hinduism, Gandhi said he was a Buddhist.
He told the students of Vidyodaya that his eldest son accused him of being a Buddhist. Some other Indians accused him of spreading Buddhism under the guise of "Sanatana Hinduism".
But he pleaded guilty to the charge.
"I sympathise with my son's accusations and the accusations of my Hindu friends. And sometimes I feel even proud of being accused of being a follower of the Buddha, and I have no hesitation in declaring in the presence of this audience that I owe a great deal to the inspiration that I have derived from the life of the Enlightened One," he said.
That was what he said to modern Sri Lanka's foremost Buddhist revivalist, Anagarika Dharmapala, at a function to open a Buddhist temple in Calcutta.
Calls for reform of present-day Buddhism
However, Gandhi strongly felt that Buddhism, as practiced in his time, needed reform. At Vidyodaya, he said though Buddhists outside had taken in a large measure the teachings of the Buddha, an examination of their lives, whether in Sri Lanka, Burma, China or Tibet, showed that there were inconsistencies between Buddhism as he understood it, and Buddhism as practiced by people in these countries.
Elaborating this theme, Gandhi said that there was a mistaken notion that Buddhism rejected the concept of God and that the Buddha did not believe in God.
"In my humble opinion such a belief contradicts the very central fact of Buddha's teaching," he said.
"It seems to me the confusion has arisen over his rejection of all the base things that passed in his generation under the name of God ."
"His whole soul rose in mighty indignation against the belief that a being called God required for his satisfaction the living blood of animals in order that he might be pleased -- animals which were his own creation."
"He therefore reinstated God in the right place and dethroned the usurper who for the time being seemed to occupy that White Throne.'
"He emphasised and re-declared the eternal and unalterable existence of the moral government of this universe. He unhesitatingly said that the Law was God himself."
"God's laws are eternal and unalterable and not separable from God himself. It is an indispensable condition of his very protection," Gandhi said. The confusion over God had blurred the true meaning of the term Nirvana he said.
"Nirvana is not utter extinction after death."
"Nirvana is the utter extinction of all that is base in us, all that is vicious in us. Nirvana is not like the black, dead peace of the grave, but the living peace, the living happiness of a soul which is conscious of itself and conscious of having found its own abode in the heart of the Eternal," Gandhi said.
Need to respect sanctity of life
Gandhi was very much disturbed by the lack of respect for the sanctity of life in Buddhist countries as well as India where Buddha lived and preached.
Buddha's greatest attribute was the "exacting regard" he gave to all forms life, including the lowliest, he said. The Buddha considered the lives of even the smallest creature on earth to be as precious as his own.
"It is an arrogant assumption to say that human beings are lords and masters of the lower creations. On the contrary, being endowed with the greater things in life, they are trustees of the lower animal kingdom."
"And the greatest sage lived that truth in his own life," Gandhi said as he went on to relate how the Buddha clutched a lamb and would not give it to a set of "arrogant and ignorant Brahmins" who were planning to perform a sacrifice with it.
Plea to adopt vegetarianism
Gandhi said that he did not know what the position in Sri Lanka was, but he knew that in Burma, the Burmese Buddhists would not themselves kill animals, but did not mind others killing the animals for the table.
He used the strong word "carcasses" for meat at the table.
He decried the pervasive drinking habit in Sri Lanka, especially among the poor, and said that it was opposed to the spirit of all religions, "most decidedly" Buddhism. In a speech in Badulla on November 19, 1927, Gandhi said that he was "pained" to hear that even some Buddhists observed the "curse of untouchability" and that untouchable women were forbidden to wear upper garments.
"If you believe in untouchability you totally deny the teaching of the Buddha," he said.
Communalism is a "blight"
In a talk at the premier nationalistic organization, the Ceylon National Congress on June 22, 1927, Gandhi deplored the way communalism was being promoted in Sri Lanka, and described the phenomenon as a "blight".
"I read casually only today, something in praise of communalism. In India also we have this blight -- we call it a blight, we don't praise it."
"In India we have to deal with 300 million people. But you have to deal with such a small mass of men and women that it is a matter of pain and surprise for me to find a defence -- an energetic defence -- of this communalism."
Communalism, he cautioned, was "totally opposed to nationalism."
Gandhi said that Sri Lanka would never get genuine self government unless all the communities speak with one voice and not merely as Christians, Muslims, Buddhists, Hindus, Sinhalese, Tamils and Malays.
Westernisation as a divider
Gandhi was disturbed by the deep rooted Westernisation that he saw in Sri Lanka, and said that it should be eschewed because it created divisions among the people.
Rebuking Sri Lankans who were going in for "all kinds of fashions and styles," Gandhi said: " Do not for the sake of your country ape the manners and customs of others which can only do harm to you, and for heaven's sake, do not wish to be what everyone of the people of Ceylon cannot be."
Sri Lanka was called Ceylon prior to 1972.
Gandhi hailed the movement to teach Sri Lankan children through their mother tongue. In a speech at Mahinda Collge at Galle in the deep south of the island, he said: " I am certain that the children of the nation who receive instruction in a tongue other than their own commit suicide. It robs them of their birth right."
"A foreign medium means an undue strain upon the youngsters and isolates them from their home. I regard therefore such a thing as a national tragedy of first importance."
But Gandhi urged the learning of Sanskrit in Sri Lanka, since the Buddha himself, who he described as the "Indian of Indians" had "derived his inspiration from Sanskrit writings."
Wanted Lanka to set an example to India
Gandhi described Sri Lanka as a "fragrant pearl dropped from the nose ring of India."
In a speech delivered at a meeting of Indians in Jaffna on November 27, he said that he wished Sri Lanka would be an improved version of India, which had fallen on bad times. Sri Lanka should be the model for India, its "glorious edition" as he put it.
"Why should not the people of Lanka who have inherited and adopted the teachings of the great Master do better than the children of the motherland?" Gandhi asked.
------------------------
PK Balachandran is Special Correspondent of Hindustan Times in Sri Lanka