Learning from a great teacher
by T. SELVA, (The Star), The Buddhist Channel, Sept 10, 2007
Dharmsala, India -- I am in a Buddhist monastery in Dharamsala, India, now to have a rare chance to enhance my spiritual knowledge directly under renowned spiritual leader the Dalai Lama.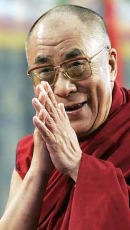 << Rare and precious: For the first time ever Tibetan spiritual leader the Dalai Lama will be giving three days of teachings and a Chenrezig initiation.
For the first time ever, the Nobel Peace Prize winner is offering three days of teachings starting tomorrow and a Chenrezig (Guan Yin) initiation especially for people of all faiths from South-East Asia.
It is a once-in-a-lifetime opportunity to attend teachings on the cultivation of Bodhicitta and the wisdom realising emptiness by the most highly-qualified teacher, based on a text, Commentary to the Mind of Enlightenment, by Nagarjuna (1st century AD), a very important Buddha scholar.
Bodhicitta is a mind that has overcome all thoughts of self-interest and is totally dedicated to the welfare of others.
With the understanding that the very best way to do this is to become a Buddha oneself, the determination to work for this enlightened state is motivated purely by the thought of cherishing and benefiting all living beings.
The wisdom realising emptiness is the realisation, expressed in its simplest terms, that all things exist in dependence on causes and conditions.
Nagarjuna's explanation of emptiness is deeply profound and is said to contain the very essence of his teachings.
Nagarjuna is famed for his flawless understanding of the essential meaning of the most profound of Buddha's teachings, which he explained in the many commentaries he wrote.
The final day of Dalai Lama's teaching will be the Guan Yin initiation, which is the transmission of blessings by the spiritual guru, encompassing explanation, visualisation, offerings and specific mantras.
Dharamsala is a special place for Buddhist monks because when Dalai Lama left Tibet, India permitted him and his followers to establish a "government-in-exile" in 1960.
Since then, several thousands of Tibetan exiles have settled in the town.
Most of these exiles live in Upper Dharamsala, or McLeod Ganj, where they established monasteries, temples and schools.
My purpose of visiting Dharamsala is to highlight the importance of creating spiritual awareness and understanding and respecting all faiths.
Life is a journey and not a destination and it is vital people understand the purpose of life which is just not to eat, sleep, chat and enjoy.
Going on a pilgrimage or visiting any powerful spiritual sites helps an individual to cleanse his or her body, mind and spirit.
Individuals should find a unique sense of spiritual self because in many aspects it has the answers to mental peace to human values.
Spiritualism is the philosophy of higher reality, which is defined by different philosophers in different words like, "immaterial reality", "a supreme being", "a spiritual cosmic force."
I view spirituality as a high state of intellectual awakening and consciousness.
We live in two worlds – one is the material world and the other, the eternal world of bliss.
What this means is that inner joy and excitement is the portal for opening your conscious mind to the excitement that already exists within your inner self, also known as your higher self or soul.
And your soul is the real you. The other part of your self is what we call the outer self which is your outward- oriented consciousness that focuses on the challenges of the outer physical world.
You can always trust your inner self because it acts as your true inner guide. Spirituality activates that intellectual process which is necessary for the development of one's personality. It neutralises stress, tension, anger and void.
All other things become insignificant in comparison to spiritual achievement as it brings an individual to an eternal world of bliss, where there is nothing but everlasting contentment.